Meat Slicer For Home Use, Housnat Kitchen Pro Electric Deli & Food Slicer with 0-15mm Adjustable Thickness and 7.5" Stainless Steel Blade Cuts Meat, Cheese, Bread, Include Food Pusher, 150W
Meat Slicer For Home Use, Housnat Kitchen Pro Electric Deli & Food Slicer with 0-15mm Adjustable Thickness and 7.5" Stainless Steel Blade Cuts Meat, Cheese, Bread, Include Food Pusher, 150W
Regular price
$79.99 USD
Sale price
$63.99 USD
Unit price
per
Sale
Sold out
Share
SLICE LIKE A PRO: Our multipurpose and reliable meat slicer with precise thickness and safe operation has Stainless steel blades 7.5" in diameter, allowing you to start slicing hard cheeses, fruits, vegetables or even bread like a pro.

MEAT SLICER FOR HOME: Specifically designed to help you save precious time, effort and money. With our electric slicer, you don't have to go to the store to buy meat, cheese or bread, it can be done at home. Makes you like a GOOD chef at home.

EASY TO CLEAN: Meat slicers no longer have to worry about cleaning up hidden food, the removable blade and die-cast aluminum body make cleaning the food slicers easy. It allows thorough cleaning, and hygiene and helps you manage your kitchen work easier and more efficiently.

SMART PROTECTION: Non-slip suction feet help keep the meat slicer stable during use, the food pusher can protect your fingers, and the recessed power switch prevents you from accidentally turning it on or off, so you can use this deli slicer at home with confidence.

SPACE SAVING DESIGN: This 16.3''x10.6''x10.6'' food slicer is small enough for most cabinets and countertops, it's lighter in weight and convenient to move (Note: Blades run slower for better cutting results and better machine protection for longer machine life).
View full details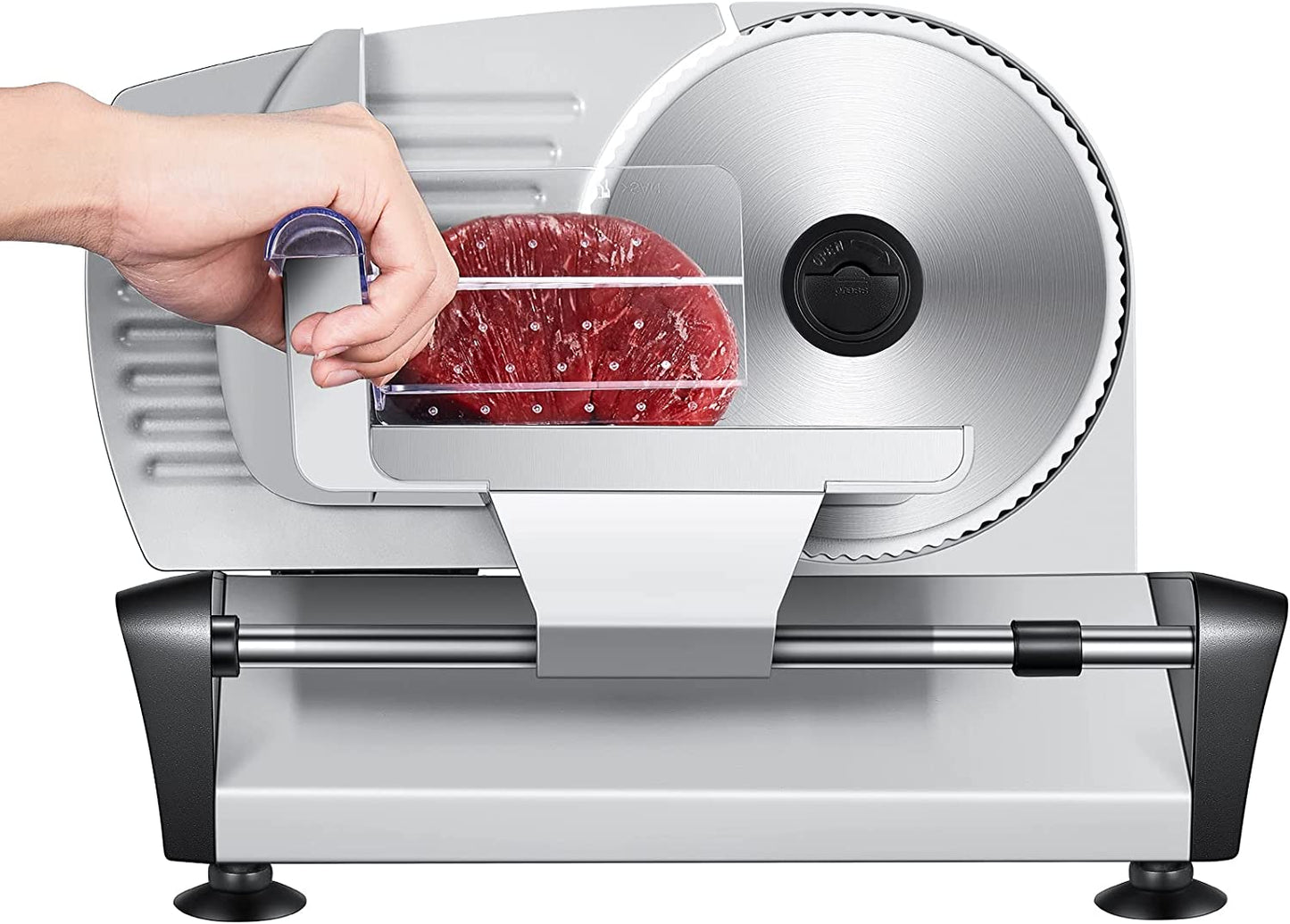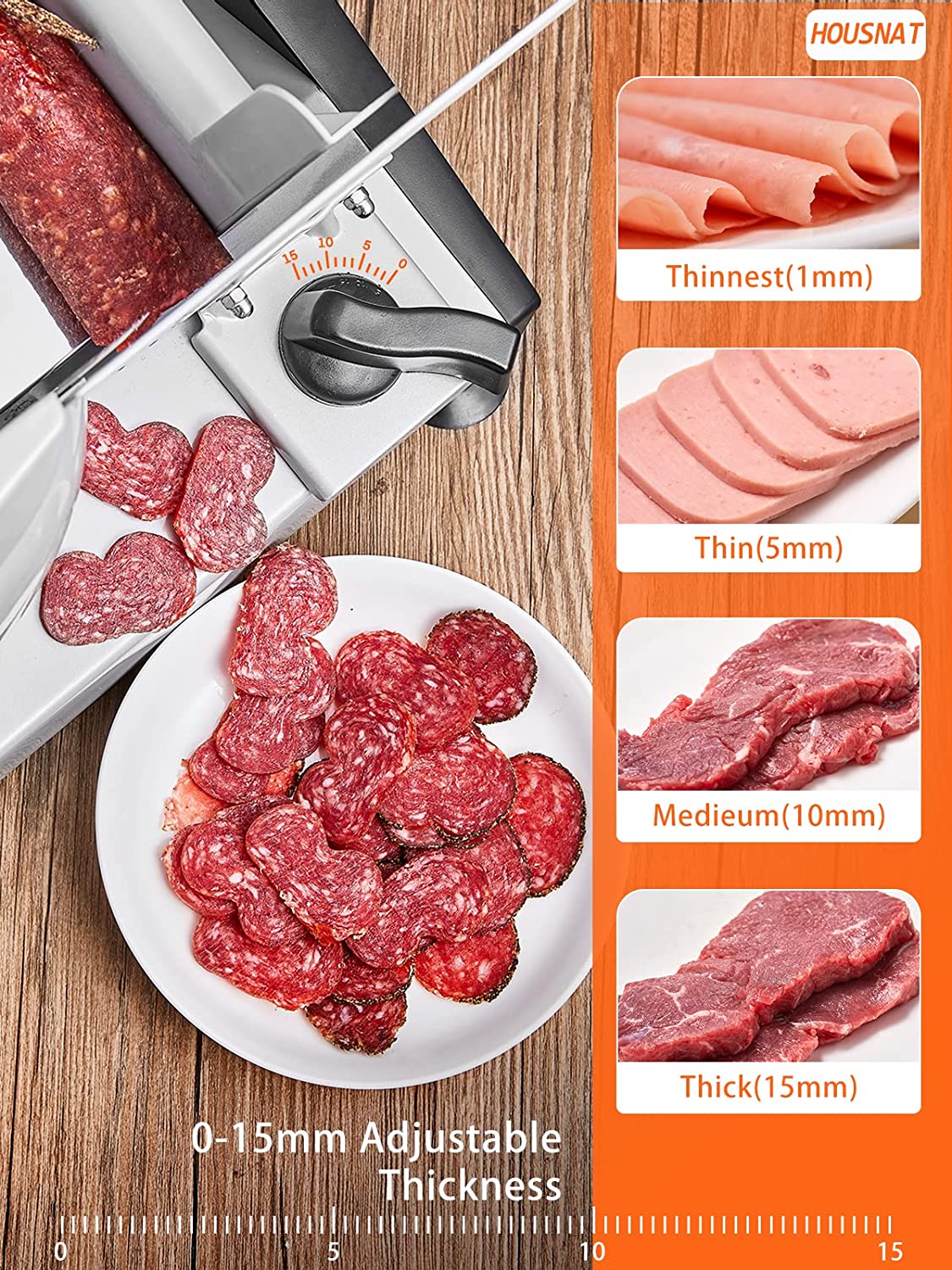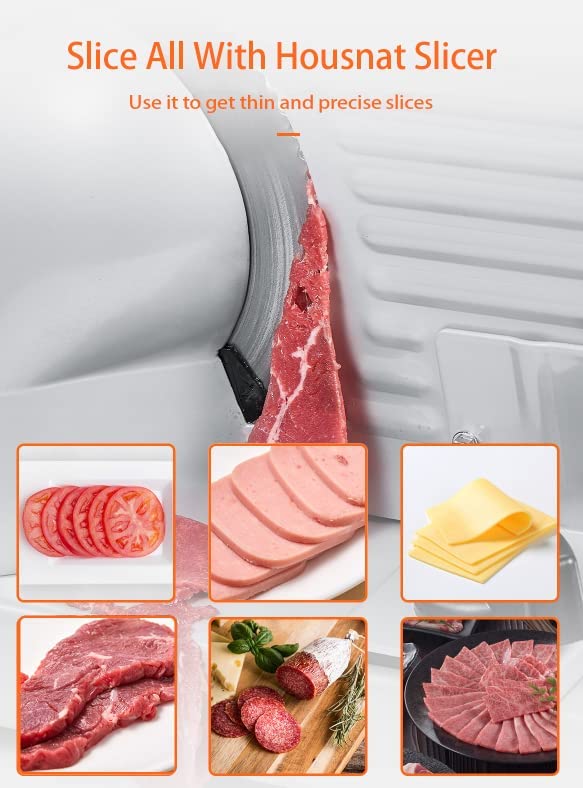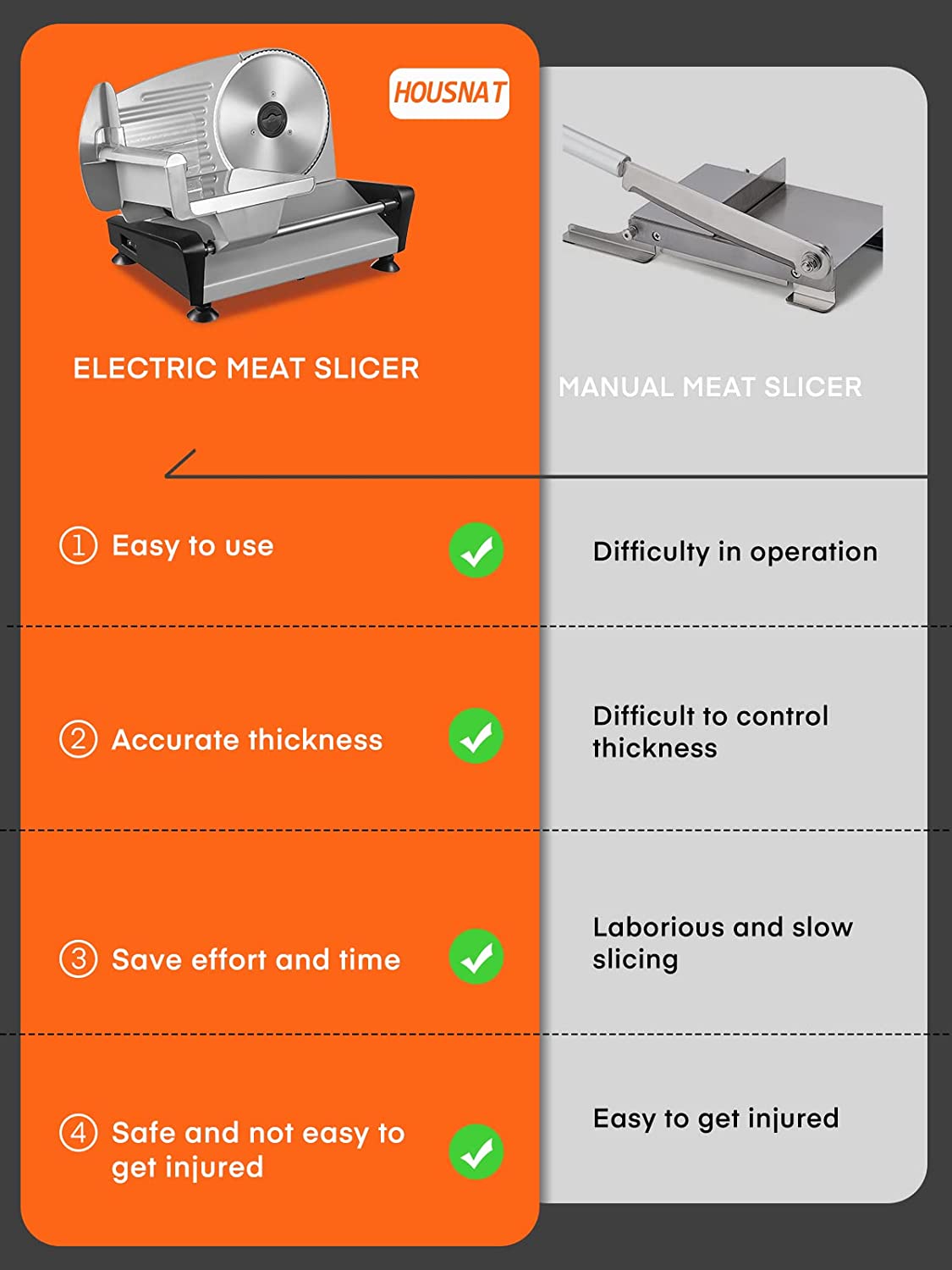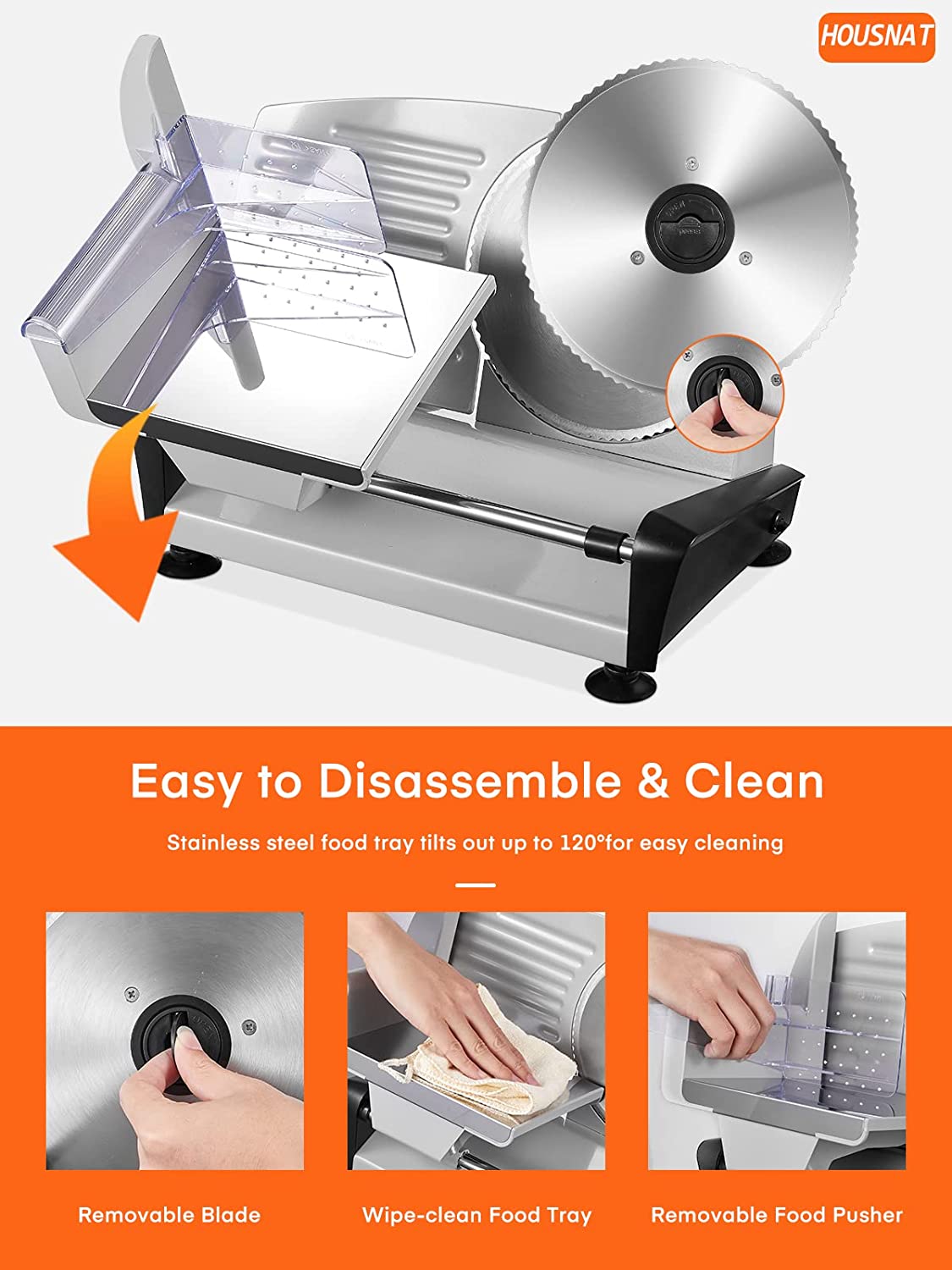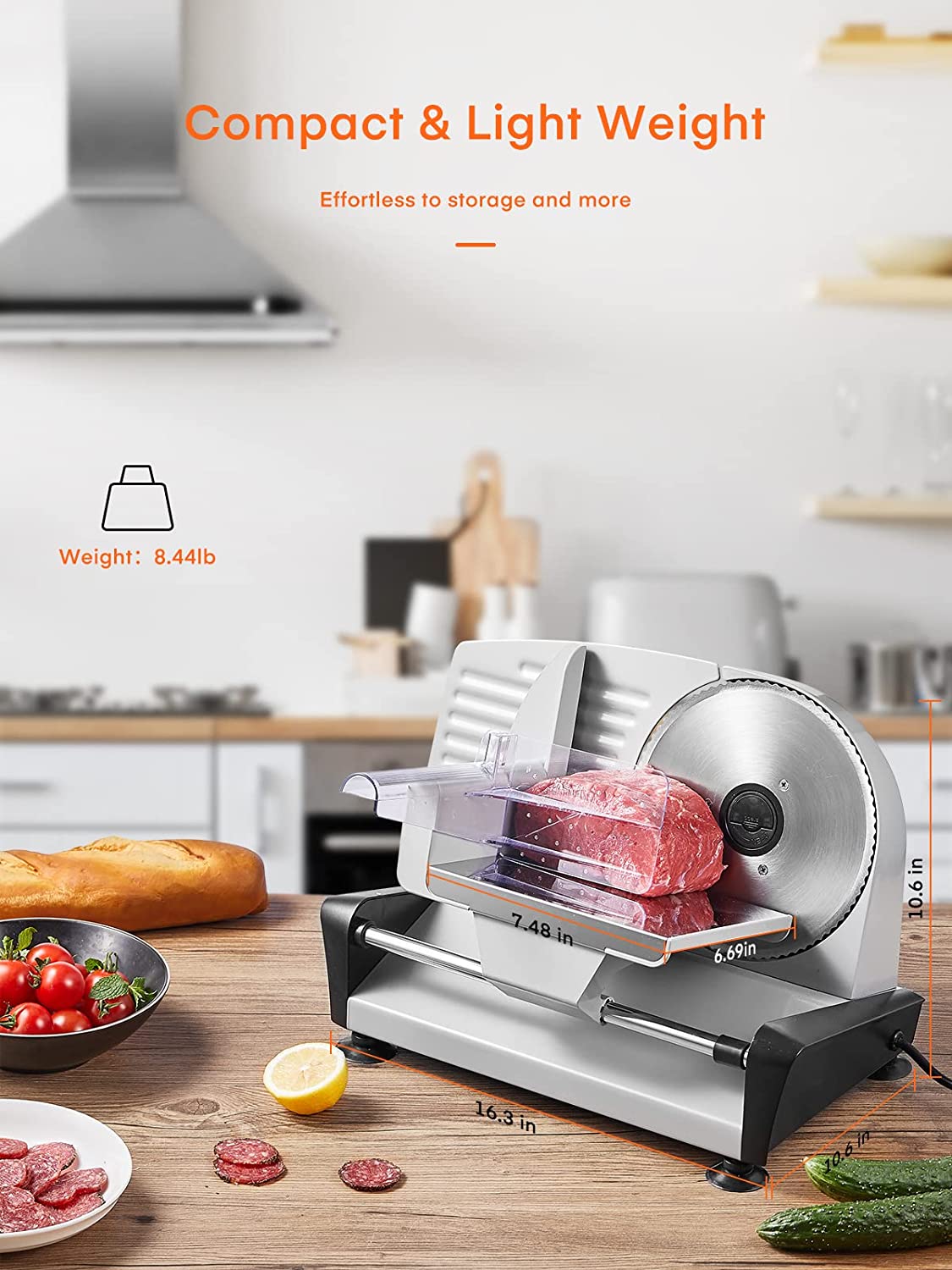 Okay for light home use
Make no mistake, this is nothing like the slicers in your grocery store. Those things are beasts that can cut anything quickly.
As long as you go slow, this slicer does a great job cutting meats, breads, and cheese. I suppose it could also work for fruits and vegetables if you really needed thin, precise cuts. I used this on some salami, and although there was some tearing, it was quicker and most effective than cutting by hand.
The blade detaches easily for cleaning, but I still recommend using this only for large batches of cutting. Otherwise, just using a knife is quicker and easier.
Ease to use
For the price you cannot beat it. A simple little electric slicer that works great, easy to clean up, and well worth the money.
Good buy
Usually, I shop at the butcher shop only because I couldn't seem to get even slices and I buy in bulk or large pieces of meat and freeze them. This meat slicer worked great. The slices were even and easy to slice. I may have sliced 3 months of meat to freeze, to save money. The safety feature works well. My delay in using one was I was afraid of cutting myself however the guide works well and kept me from making direct contact. I also like the way it worked on some of my vegetables that were too large for the mandarin slicer. I also like how it fits and seals securely to the counter so I don't have to worry about it slipping or moving while in use. It appears to be of good quality and should last a long time. It's not too large so it doesn't take up too much space. However, I chose not to leave it on the counter since I only do large shopping once a month. So I store it in its original box and bring it out when I want to use it. The only issue I have is that it is difficult to clean so I brought a brush to get into the hard places and spray lots of soap and water. I don't think I can take it apart any more than I have already tried. I will update you if I figure it out.
Works as it should
Think of a deli slicer, and this is the epitome of what this item is. It literally functions the exact way it should, the only difference thing is that it's terrifying to use, it's so sharp and cut so fast that you're terrified of losing a finger or fingers. Be very careful with this slicer, it's definitely not the average item in every home, so take that in mind, you might be safer with an ordinary knife
Great product
I got this for my husband for a gift. It is great.