Regular price
Sale price
$49.99 USD
Unit price
per
Sale
Sold out
Share
Heat Seal & Powerful Vacuum:

 

The HOUSNAT Vacuum Sealer is equipped with 80W motor, which can reach a vacuum pressure of 60KPA and complete the vacuum in 15 seconds. The 12 inch long heating strip provides air tight protection for the sealed bag, ensuring it won't leak under compression, freezing or sous vide cooking.
Dual Modes Setting:

 

The 2 modes of this Food Saver can handle all types of food and ensure the best preservation effect. Set 'Dry' mode for solid food, such as cereal, rice, pasta, spices, snack, sandwich, etc. Set 'Moist' mode for seafood, meat, vegetable and fruits.
One Button Operation & External Vacuum:

 

Using the 'Auto' function, this Bag Sealer can vacuums and seals automatically with noise lower than 60dB. Connect both ends of the provided suction pipe to the hole of this Food Sealer and to the lid of a jar, can, bag or bottle, press 'Vac Seal' to vacuum the external object for storage, such as clothes, wine, storage box.
Easy Cleaning & Long Preservation:

 

The upper body of this Automatic Sealer can be toke off and wiped with paper towel or rag dipped in detergent to clean (Don't wash the machine). The vacuumed bag can reaches high airtight level that food can stays fresh and tasteful for 8 times longer than normal preservation, preventing waste of your food.
Safety Protection:

 

This Sous Vide Vacuum Sealer will stop working as the heating strip's temperature is too high, extend the service time of the motor and prevent injuries. If the bag is filled with too much liquid, this Portable Sealer can drain the liquid out during vacuuming to protect motor from damages.
View full details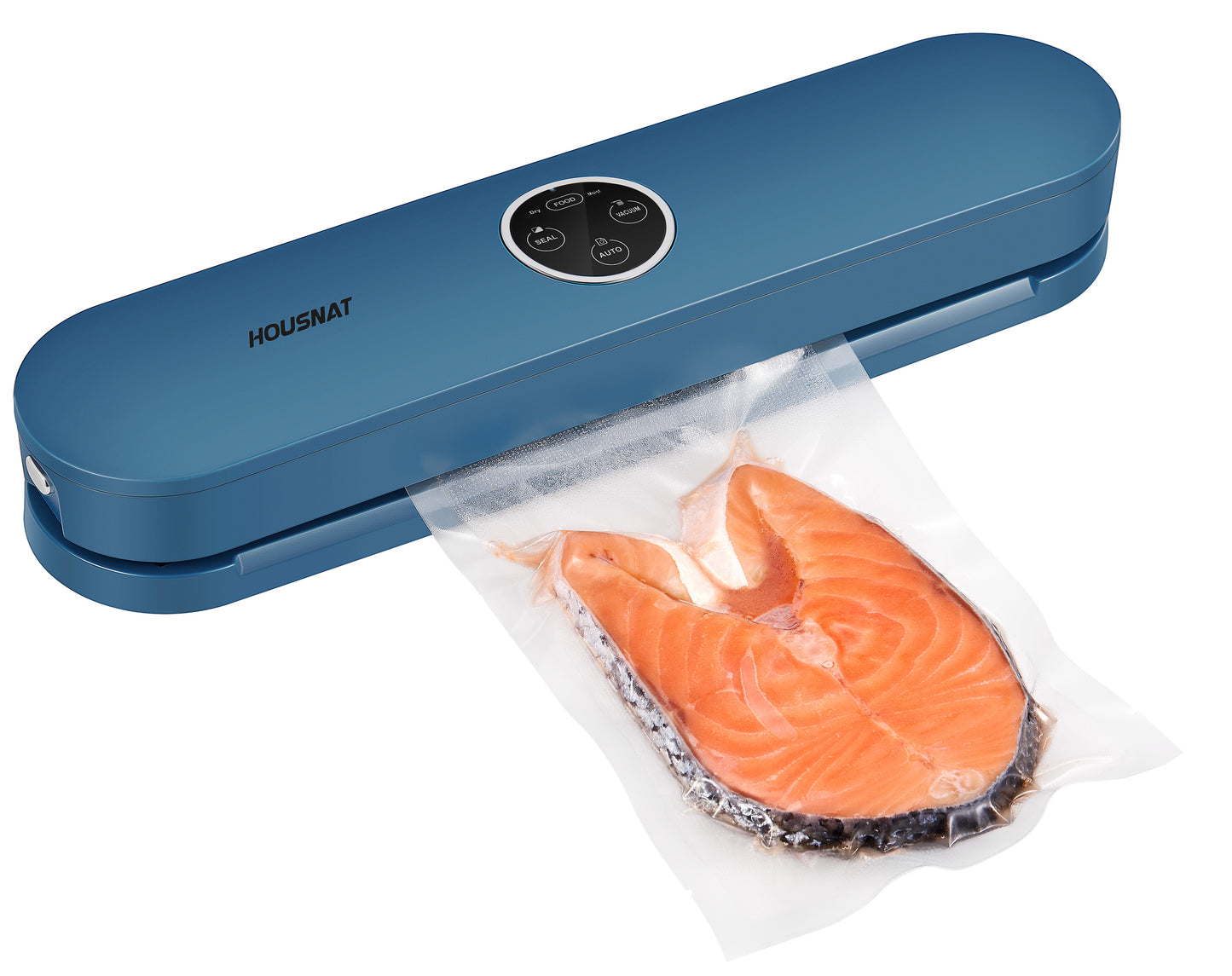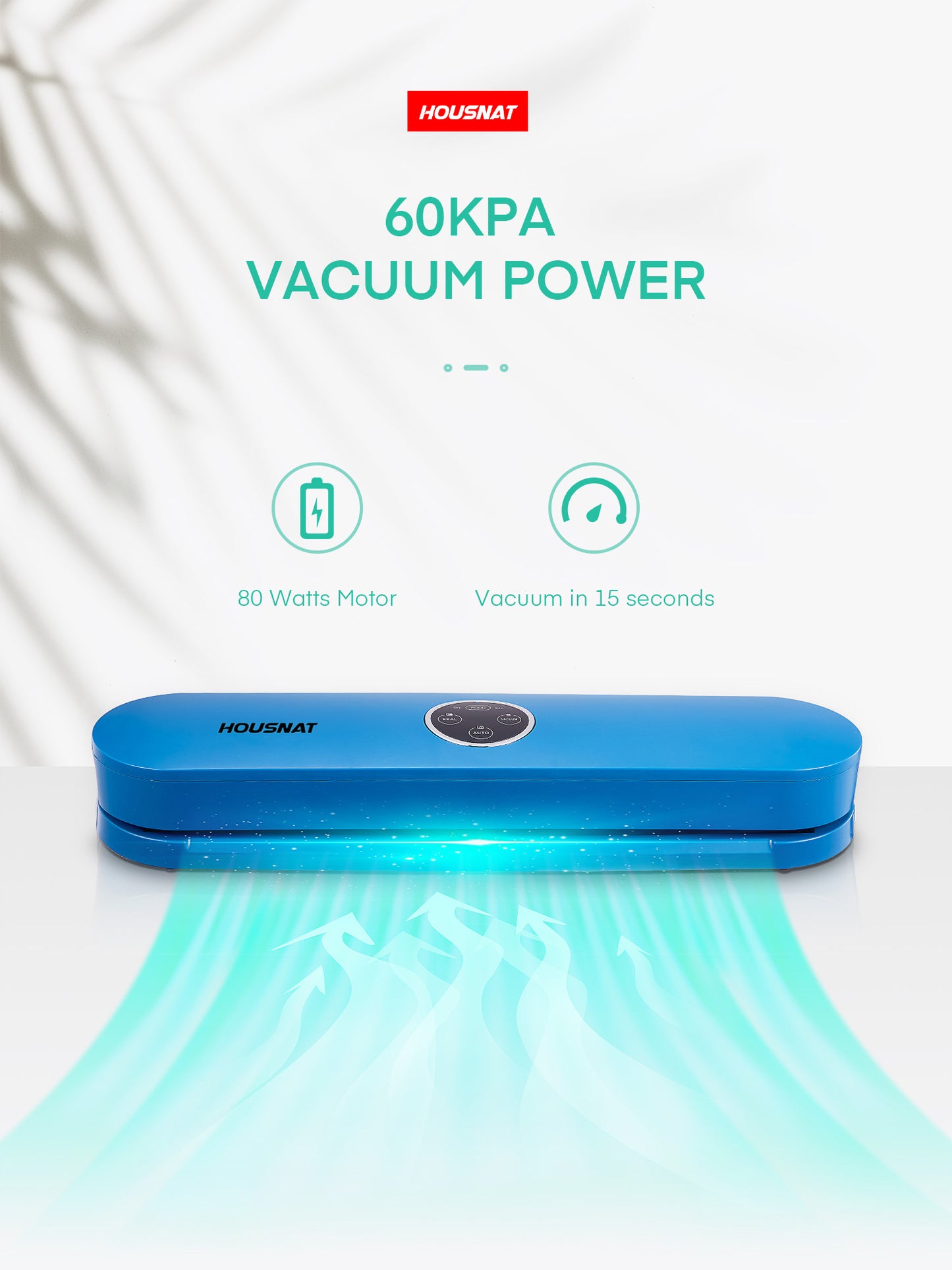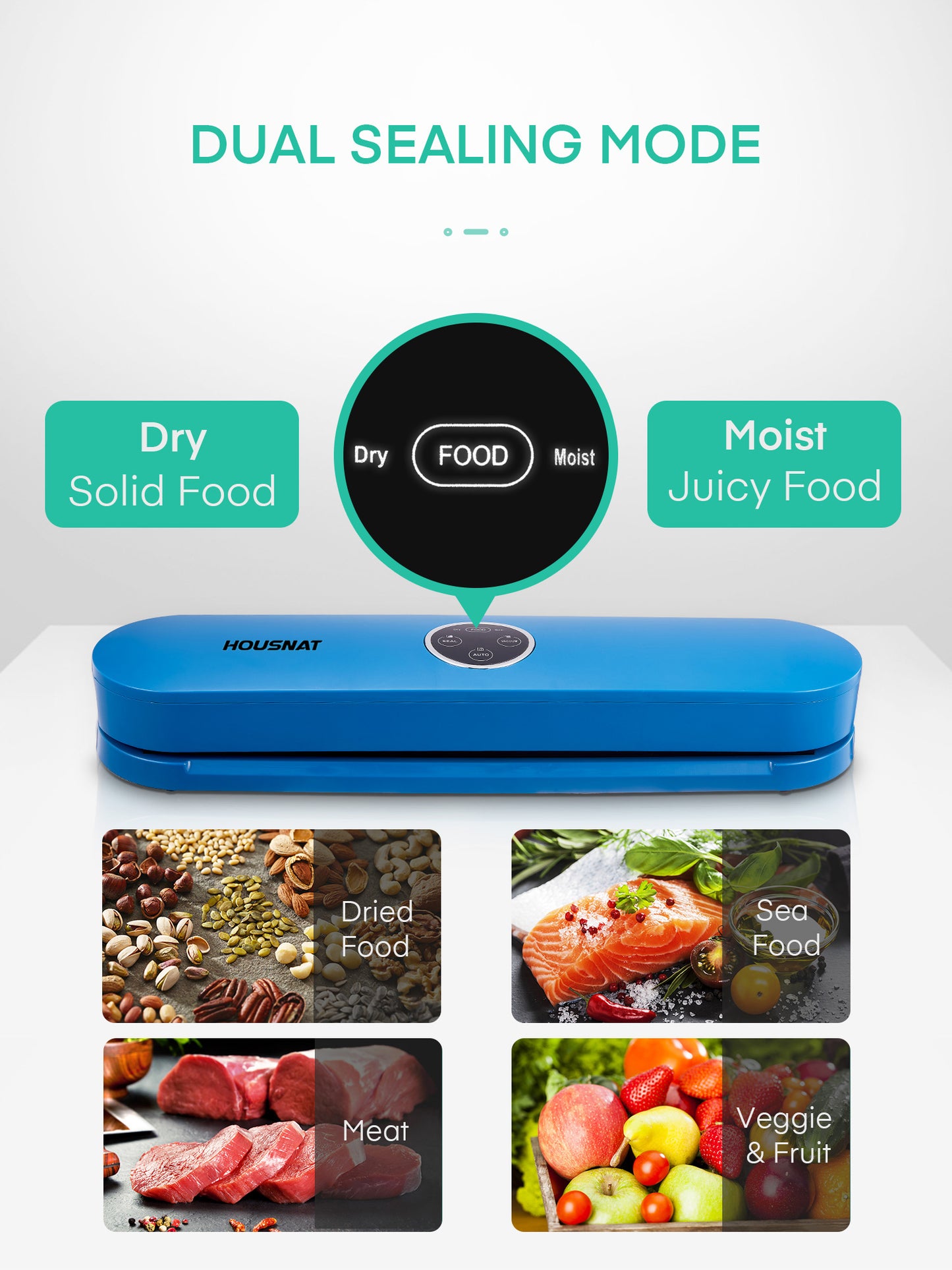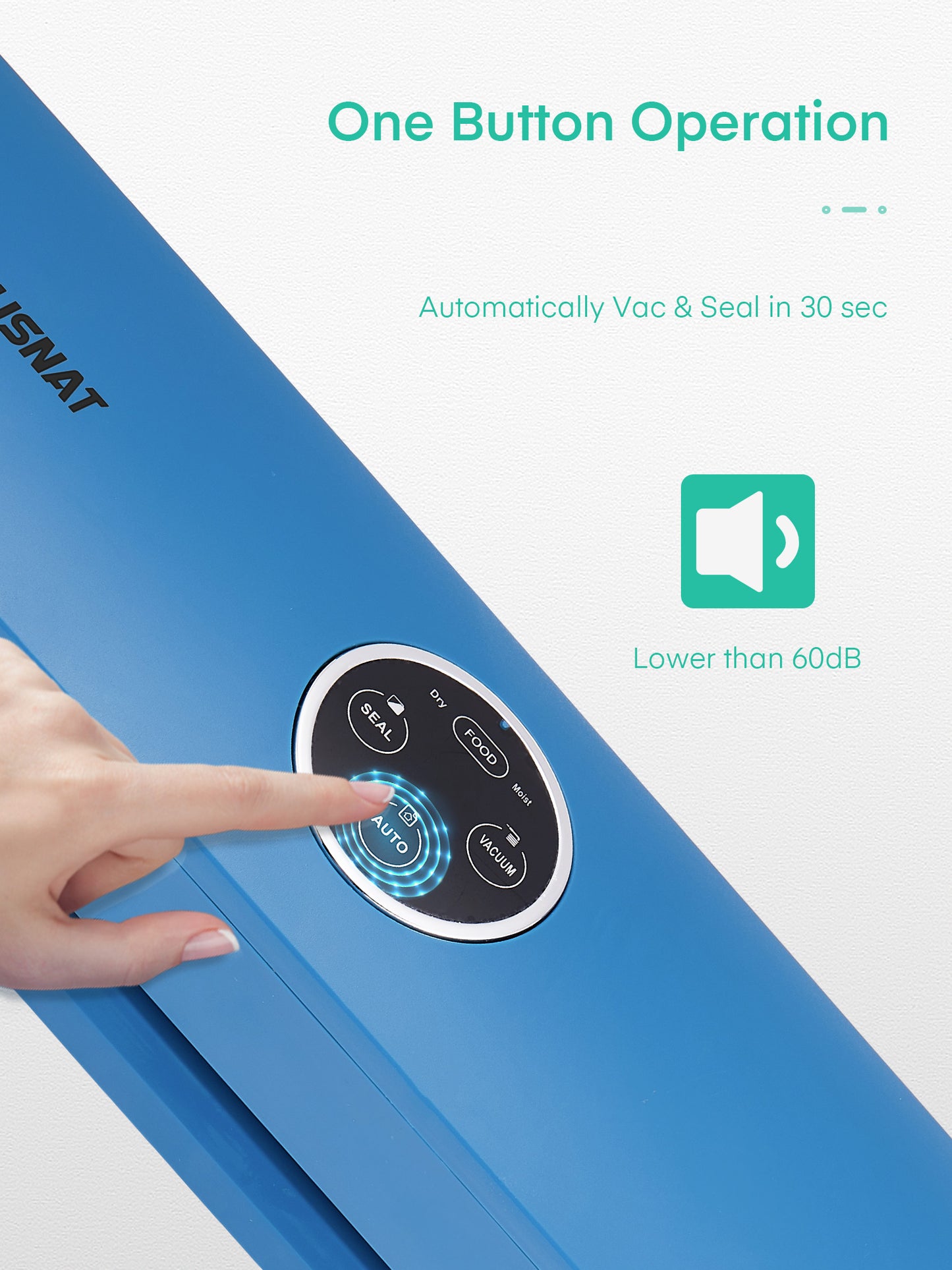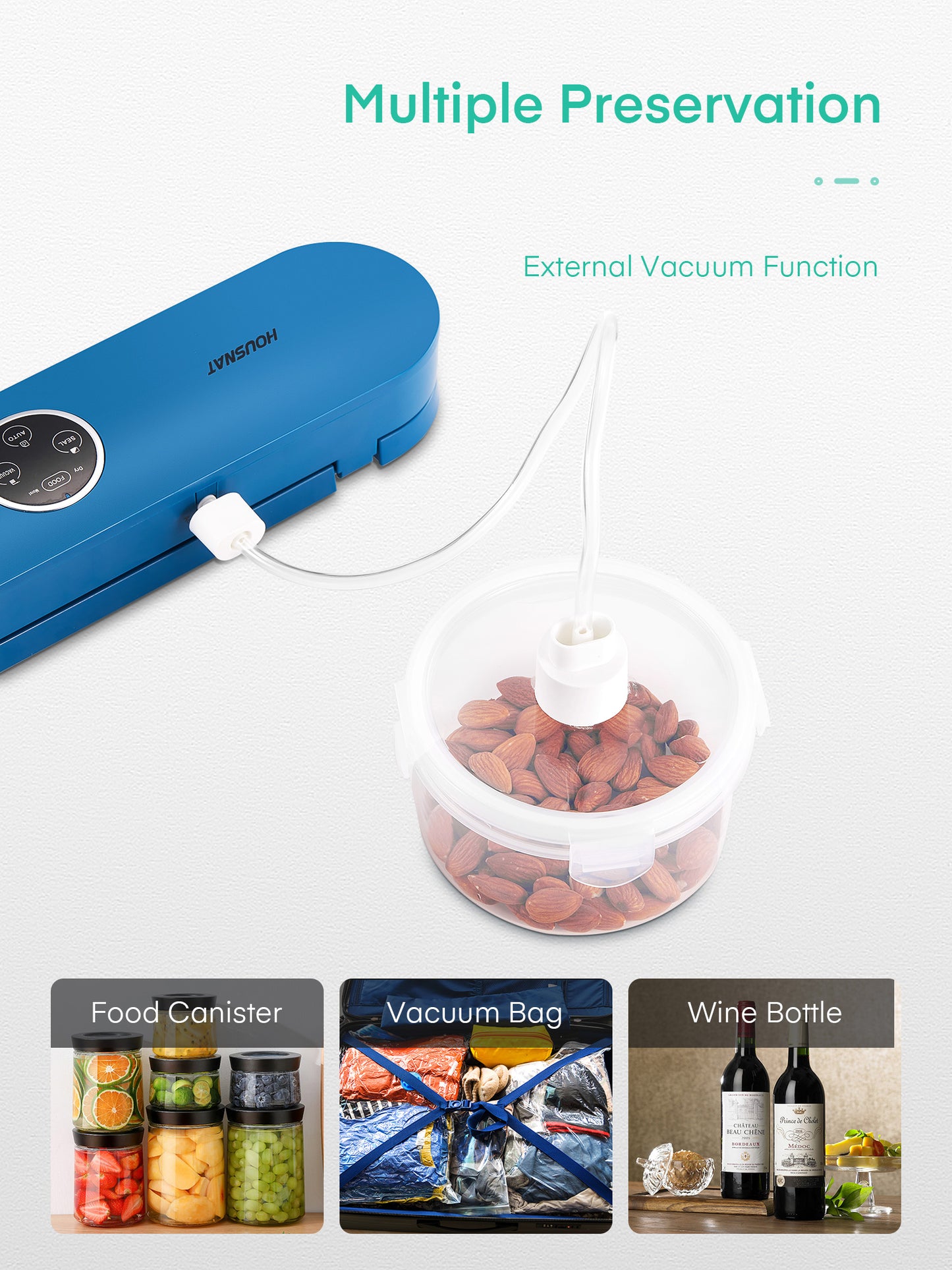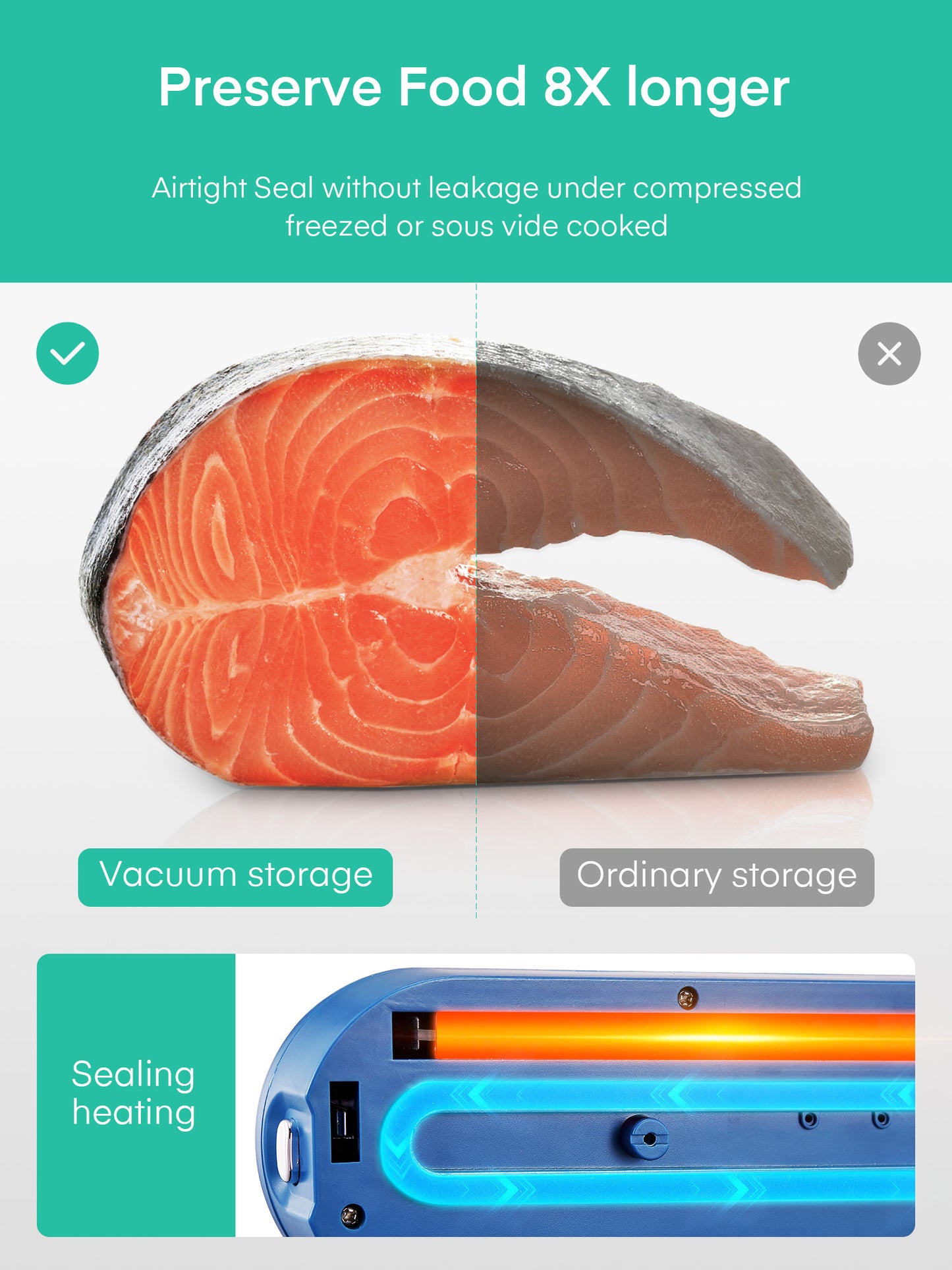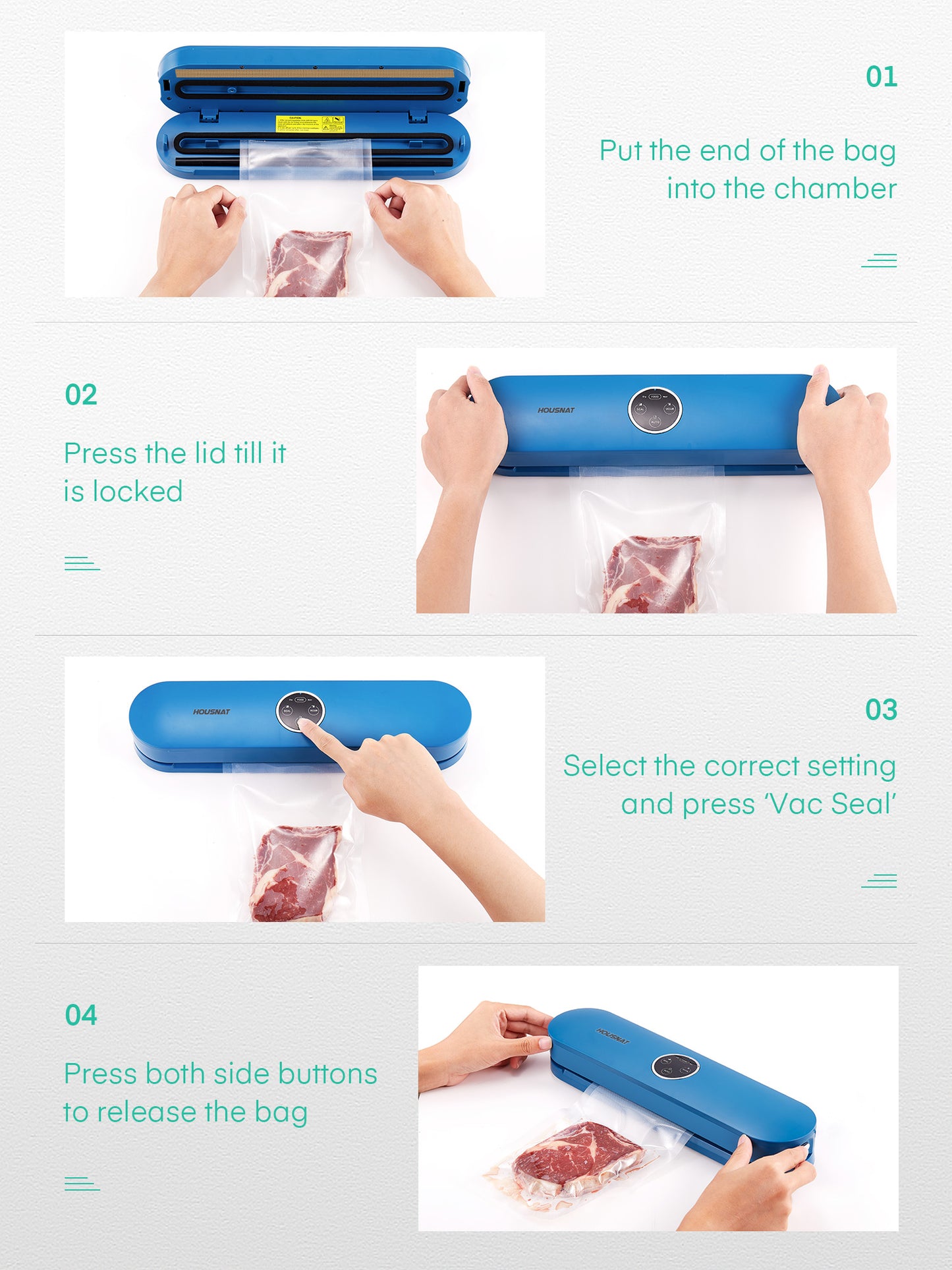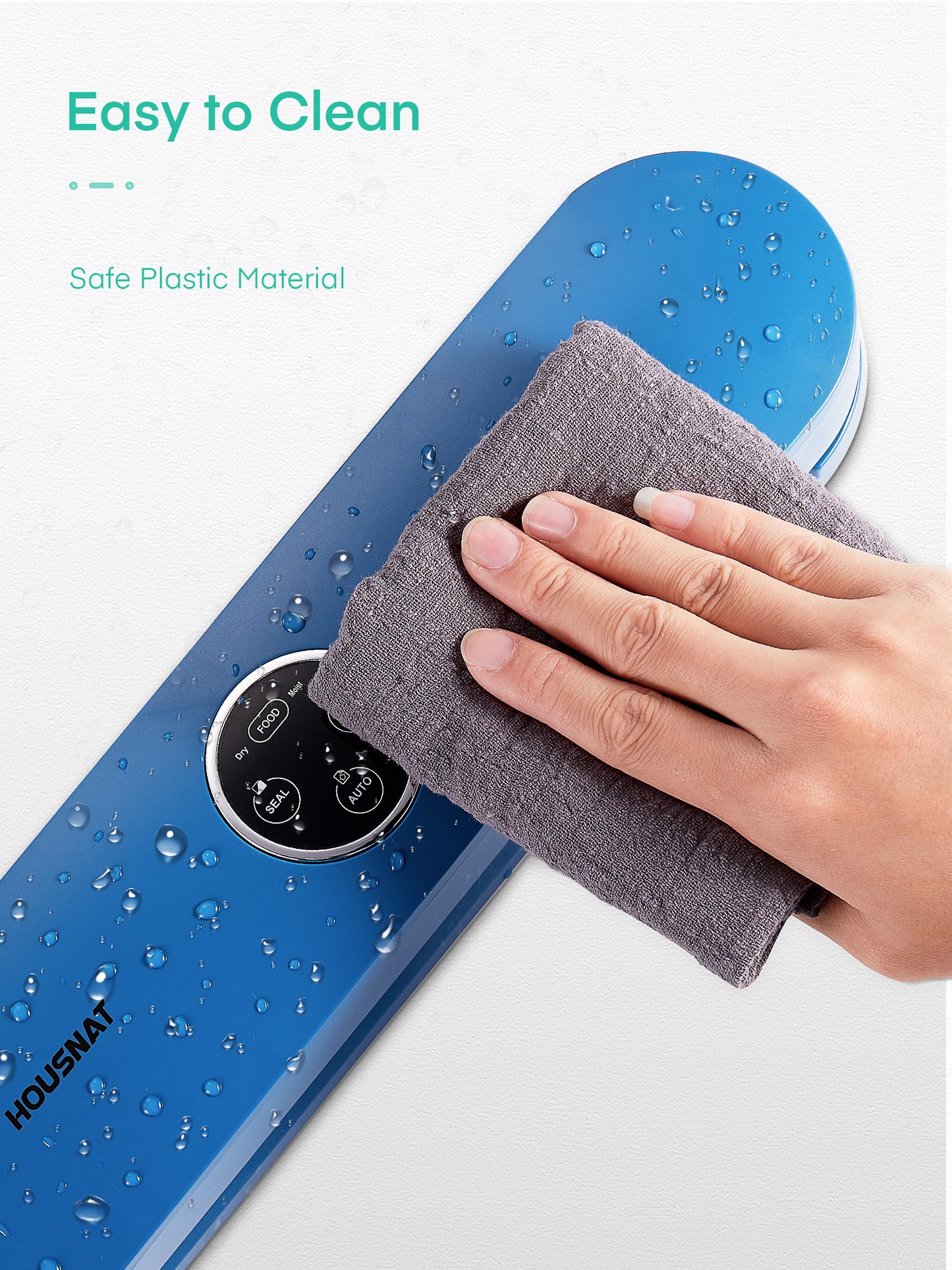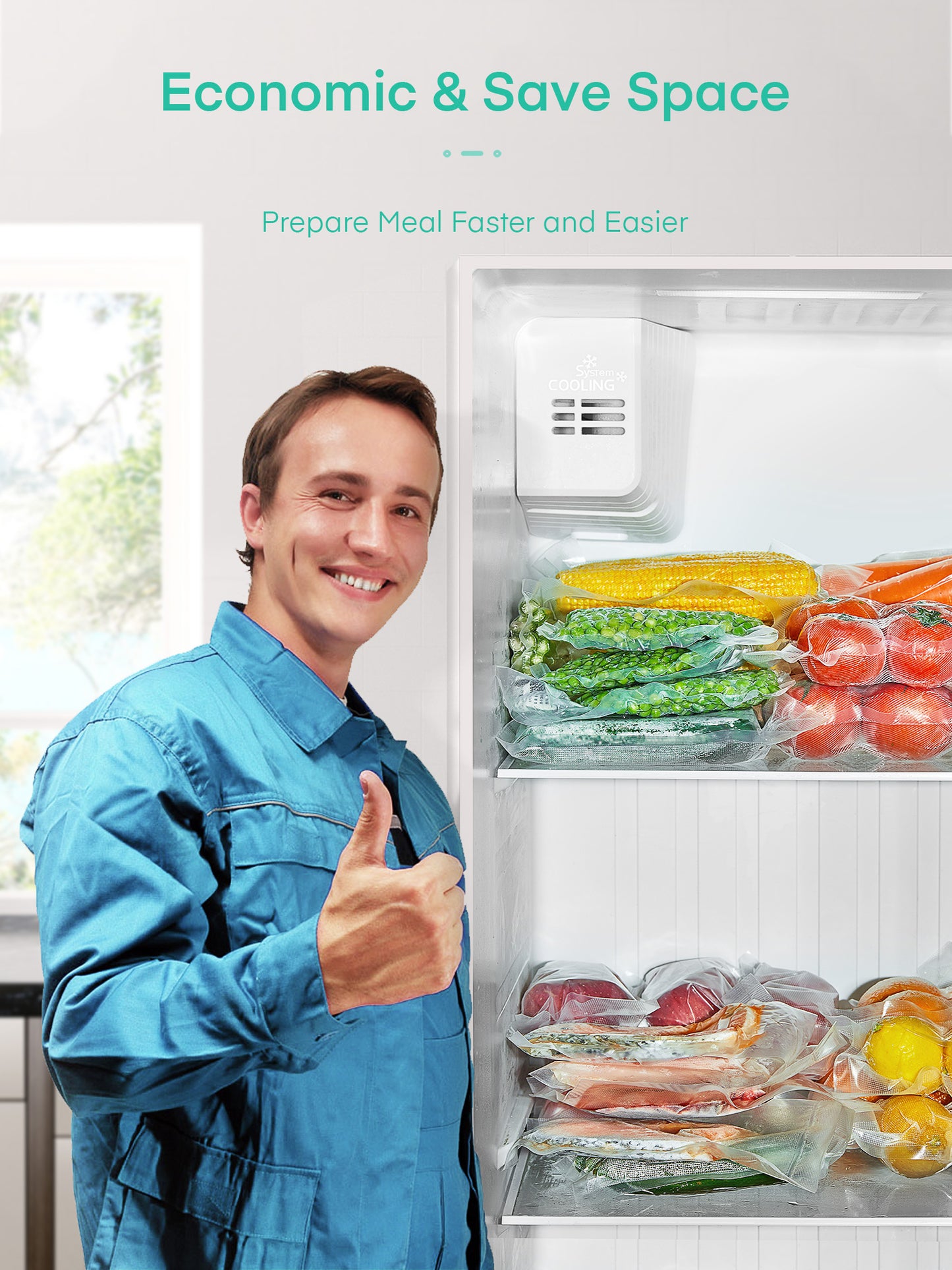 Works well with dry food only
This is a very simple vacuum sealer with a kind of useful bag cutter.
To use you insert the end of the roll into the bag cutter, pull out the desired length of roll, push the bag cutter frame down and slide the cutter across the bag.
Then you insert one end of the roll into the vacuum machine and press seal. After about 15 seconds you now have a bag, one end sealed, one end open.
Now put your food into the bag and insert the open end into the machine. This time press vacuum/seal. The machine will suck all the air out of the bag then seal it. The food should now maintain its freshness much longer than in a regular Ziplock bag. Food should be good for at least a year, maybe many years. I've dehydrated, and vacuum sealed these foods with excellent results:
1) frozen diced and shredded hash browns 2) shredded carrots 3) frozen peas
The machine didn't work well with moist foods such as Lasagna or butchered ham shanks. Quite often, because of the moisture, it wouldn't vacuum properly and form a good seal. I'll take off two stars for that.
Besides the moist food problem there are a couple of minor negs.
1) You have to press rather firmly on the top to lock the bag in the machine. Some more expensive machines do this for you using a motor.
2) It uses touch buttons instead of mechanical buttons.
3) The bag cutter is inside the machine and is a bit of a pain to use. Too often when cutting a bag you end up accidently hitting one of the touch buttons and starting the vac/seal process.
One plus is the removable liquid collection chamber. It doesn't do much good though because as I've mentioned, the machine doesn't work well with moist foods.
Great so far
It's a great vacuum sealer, comes with 6 pouch bags and the build quality is nice and has a nice sleek design which looks nice on the kitchen counter. The vacuum power is decent, not the strongest compared to my high dollar ones. But you can get nice air tight seals after running it twice if need be. So far it's been great for me since I buy alot of beef and chicken for my dogs food, very handy to freeze them and have them available.
Works as advertised
This vacuum sealer works great. Simply fill the vacuum seal bag, align it properly into the machine, press the button to extract air, then press the button to seal the bag. This product is inexpensive and lightweight, yet it performs far beyond its price range. It is so easy to use and can help prevent food waste. This is a must have kitchen tool that you don't even realize you need.
Great Product to have in the Kitchen!
This is a handy little lightweight product to have in the kitchen. We tend to get more than we can consume in a short time period and this helps to preserve a lot of food that would otherwise be wasted. The controls are simple to use, it doesn't take up a lot of room, and the device seems pretty sturdily built. One think to note for those who are rough on things, like me, is that the hinges are made out of plastic. So don't go crazy and try to apply a lot of force on it. All-in-all, this product pays for itself over time in the amount of food that you'll be saving. So I can definitely recommend this product to save some money in your wallet :)