Popcorn Machine, 28 Cups & 6.3 Quarts, HOUSNAT 800W Electric Hot Oil Popcorn Popper with Stirring Rod, Large Lid for Serving Bowl and Convenient Storage, Removable & Nonstick Plate, 2 Measuring Cups
Popcorn Machine, 28 Cups & 6.3 Quarts, HOUSNAT 800W Electric Hot Oil Popcorn Popper with Stirring Rod, Large Lid for Serving Bowl and Convenient Storage, Removable & Nonstick Plate, 2 Measuring Cups
Regular price
Sale price
$49.99 USD
Unit price
per
Sale
Sold out
Share
【28 Cups Fresh Popcorn within 4 Minutes】
HOUSNAT 800W electric popcorn maker can make 6.3 Quarts of cinema-fresh popcorn for your family and friends at the same time within 4 minutes so you can enjoy the delicious taste. At the same time, the updated rapid heating technology makes the HOUSNAT popcorn maker 50% faster than the traditional stir popcorn maker, no need to preheat, no need to wait

【Electric Stirring & Heating Evenly】
The newly upgraded electric stirrer heats the popcorn evenly for better popcorn performance and improves the popcorn popping rate. It can pop up to 100% of the corn you put in, crispy popcorn will pop but not burn; At the same time, this electric stirrer also has a reverse function to prevent the popcorn from burning.

【DIY Your Favorite Popcorn】
Do whatever you want! Make it your favorite flavor! Various condiments such as butter, sugar, salt, cheese, etc. can be placed on the non-stick coating. You can also put the sliced butter directly on the transparent top cover. Preservative-free, hot fresh popcorn for a healthier life.

【Quiet & Easy to Use】
The HOUSNAT popcorn machine works almost silently compared to other hot air popcorn machines. With just one button, you can enjoy delicious popcorn, easy and convenient. The removable black non-stick plate and transparent cover can be flipped, the transparent cover automatically turns into a popcorn machine bowl, and no need to flip the whole machine.

【Easy to Store & Clean】
The popcorn maker's new non-stick plate is easy to clean by wiping with a damp cloth. The large clear lid can be used as a popcorn bowl and the lid is dishwasher safe or wiped clean. This retro-looking popcorn maker can be used as a decoration or stored in a closet.

【With the whole family & friends】
Perfect for movie nights, low-calorie healthy snacks when friends come over, or when you want to enjoy delicious snacks with children! It is an ideal gift for Thanksgiving, Christmas, New Year, housewarming, etc.

【Note】
When the popcorn machine is working, please remove the blacktop cover to circulate the ventilation; Vent design prevents steam or condensation from forming on the clear lid and keeps popcorn crisp. Cool-touch handle design prevents burns when flipping the ejector plate.

【12-Month Warranty & 100% Services】
HOUSNAT is here to offer you only the best quality products that will make your life easier and more fun. If you need any help, our professional customer support is always there for you.

View full details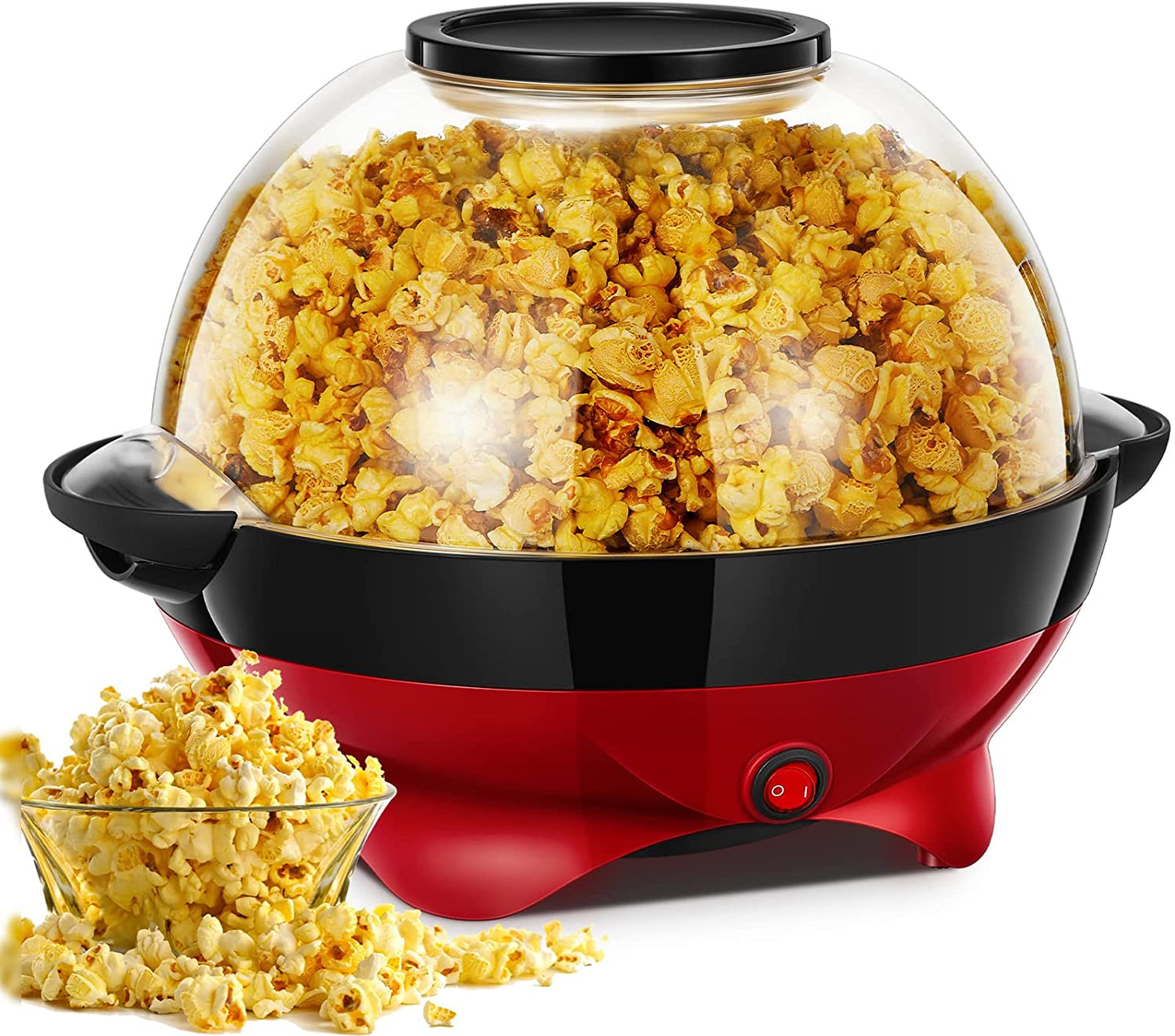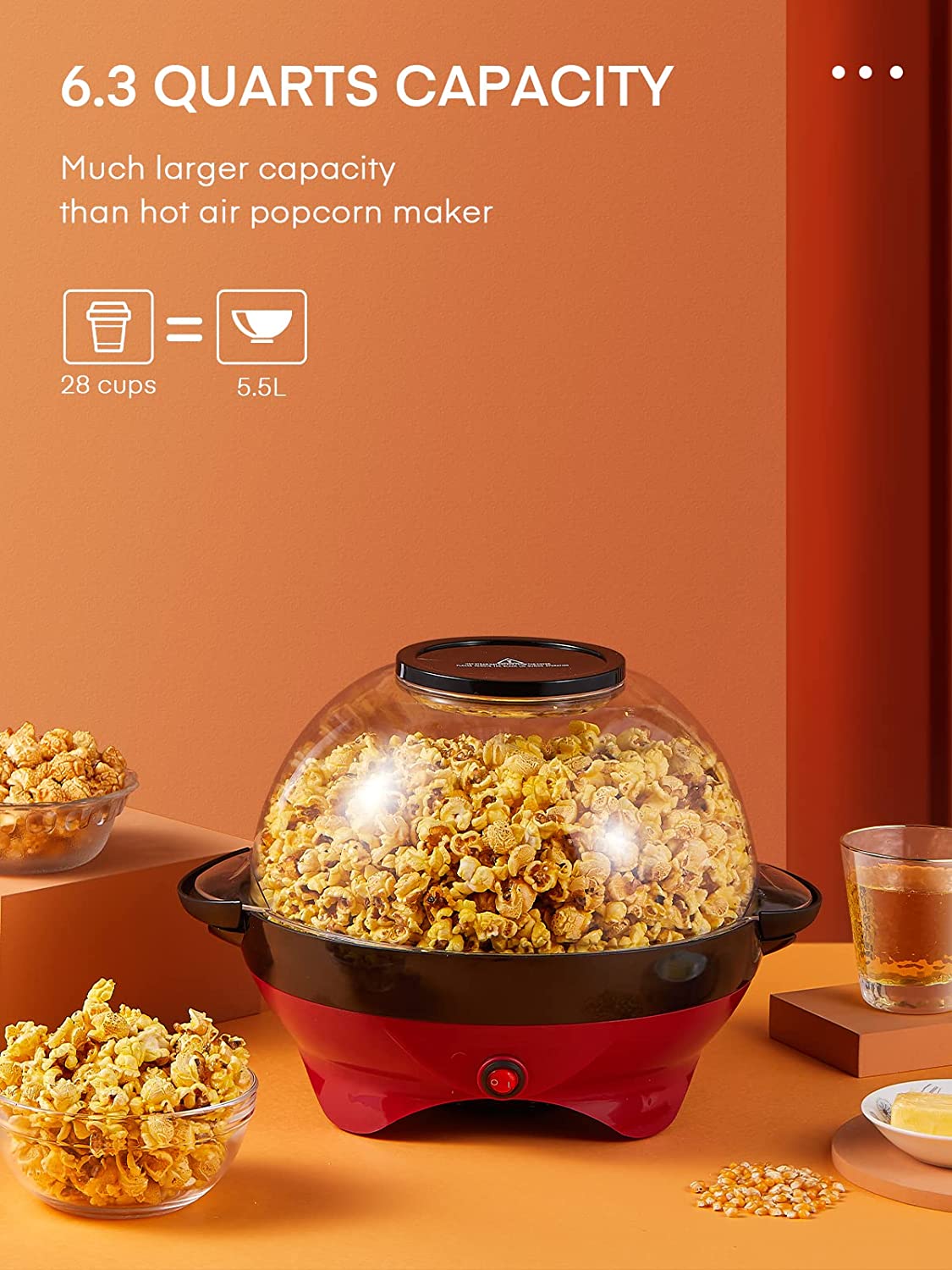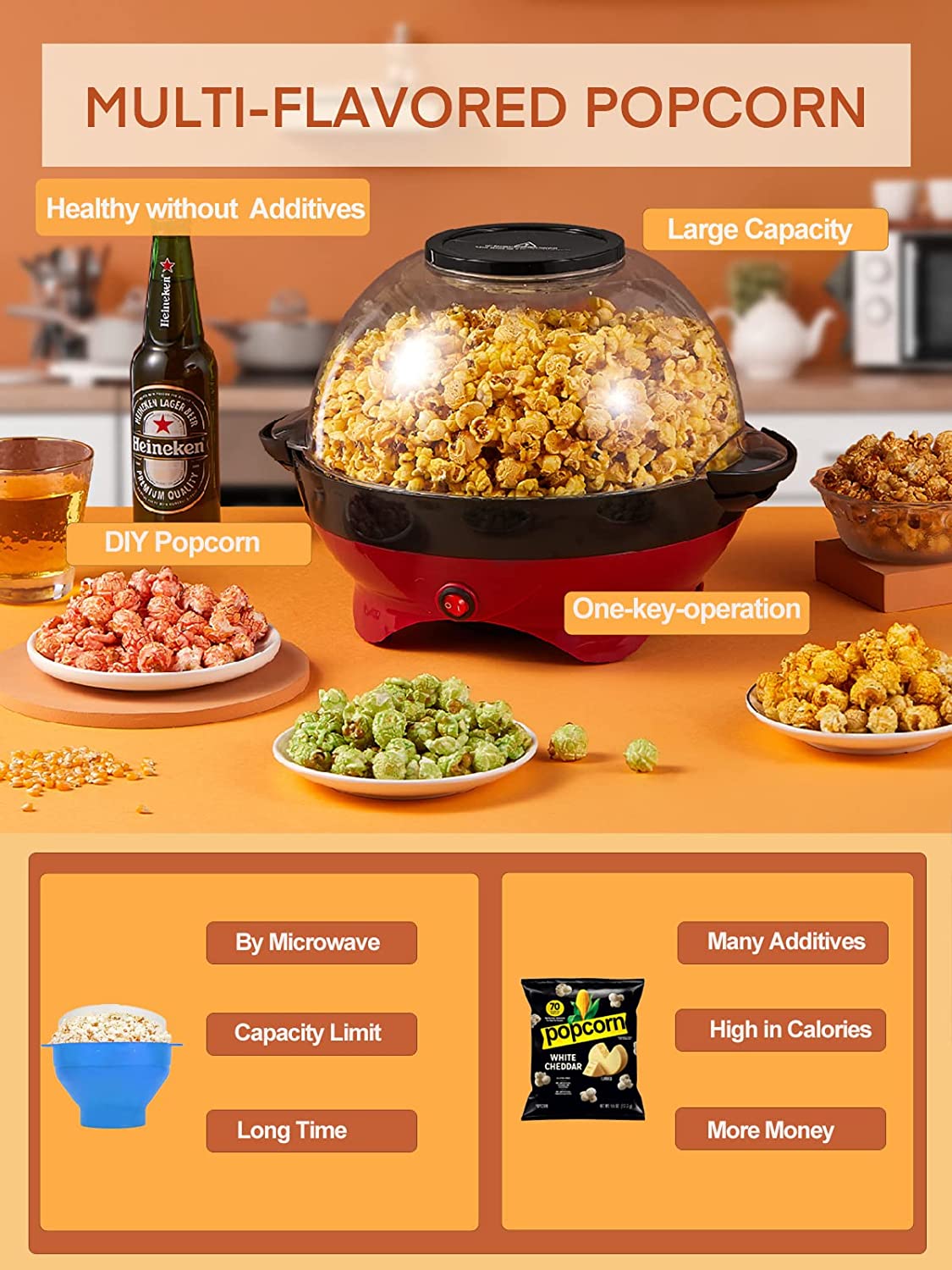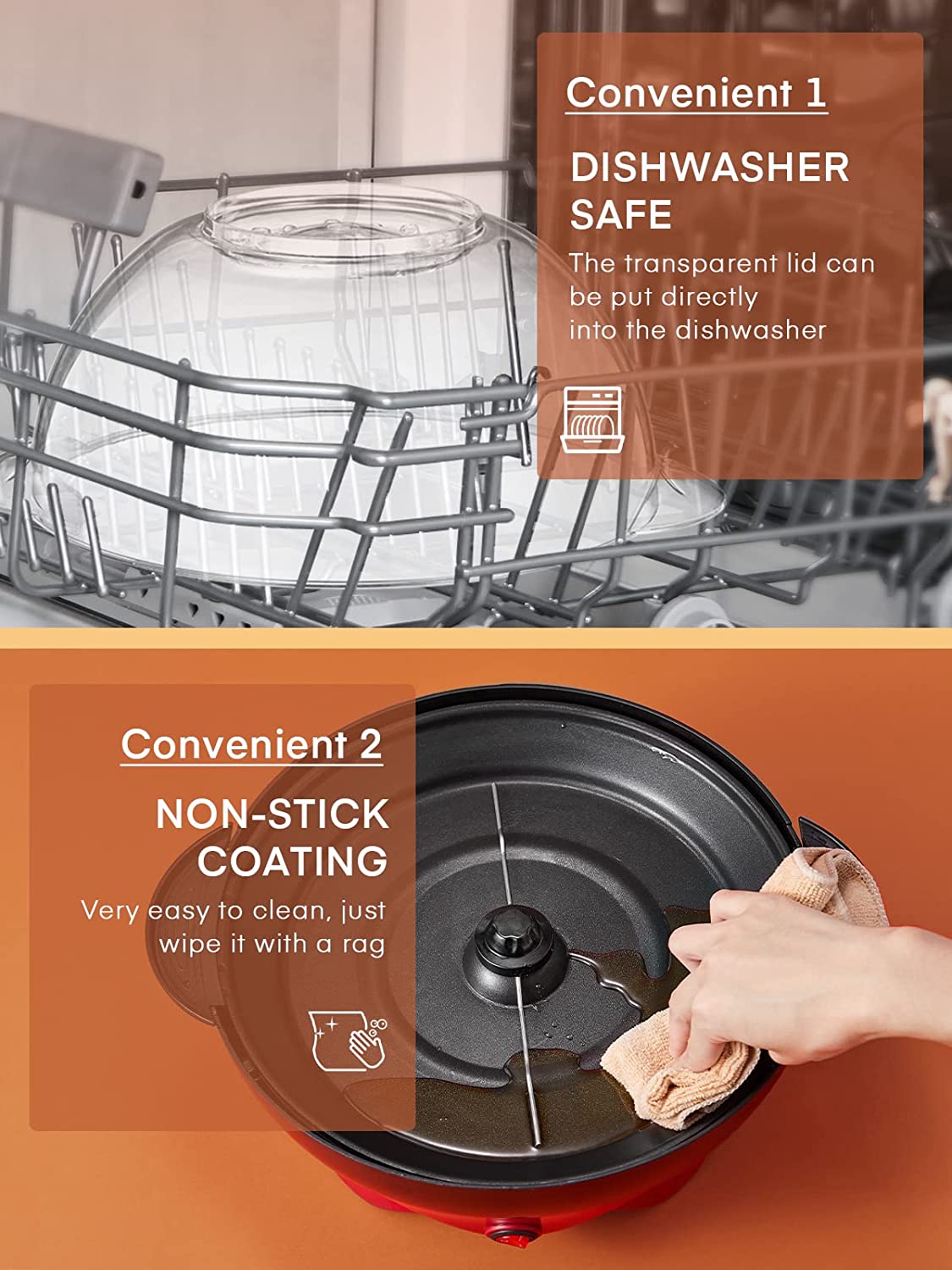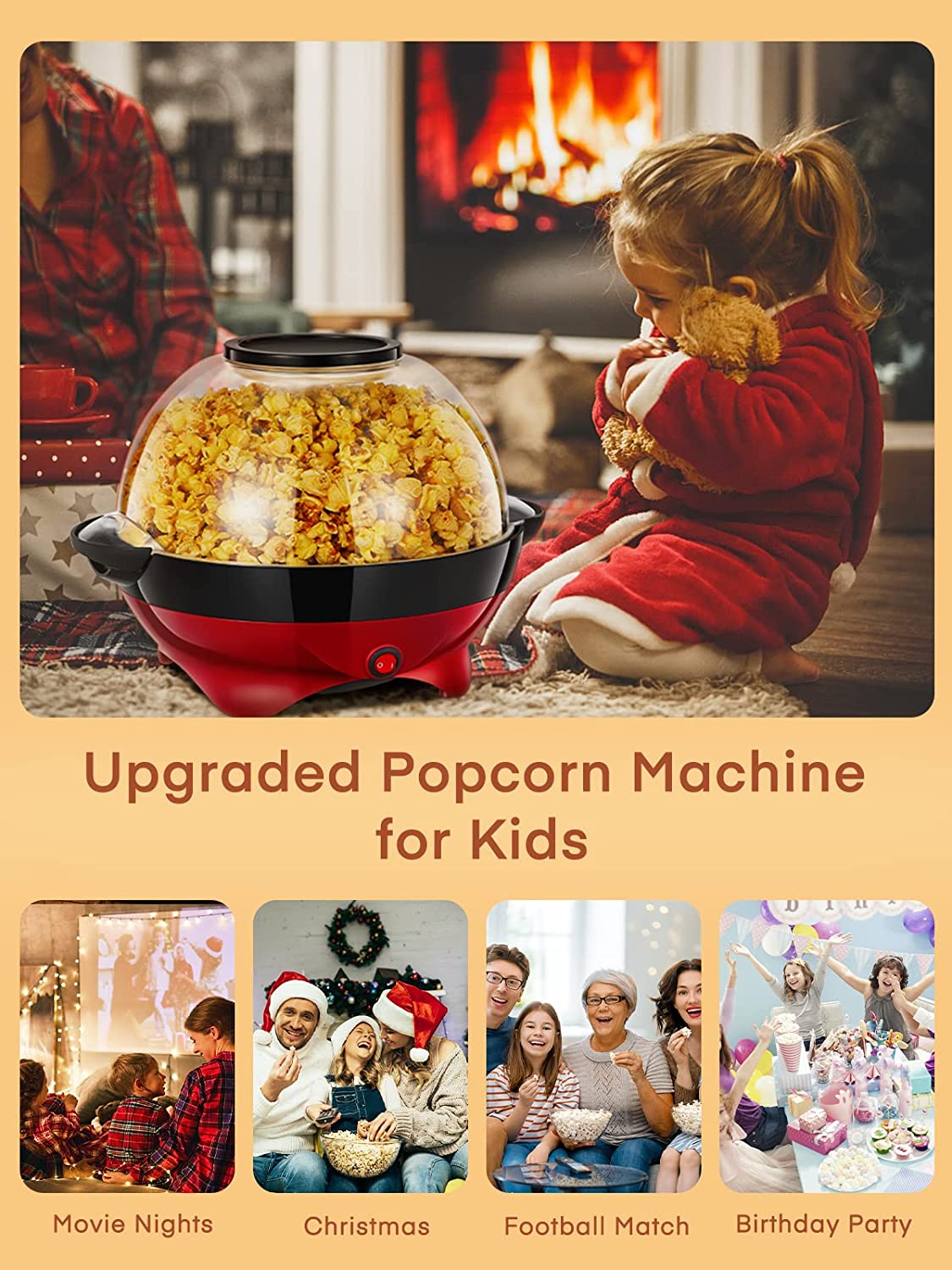 Popcorn machine
This is the best popcorn machine I have purchased as it pops almost all kernels. The only downside is that after first use the black cover became worped and will no longer stay on the bowl so you can turn it over to use as a bowl (I did not cover it while cooking the kernels as instructed so this is not the cause)
As Near to Movie Popcorn that you can have at home....
East Clean, Fast Popping, Perfect withalmost ZERO unpopped kernels !!!
Best popcorn
This popper reminds me of the one we had growing up. It makes the BEST popcorn!!! Nice and crisp, delicious popcorn!
Be careful; it does not fit tightly. Use pot holders
This item does the job but is not that closely machined and assemble. The bowl does not sit snugly on the cooking disc. Use potholders. One handle is loose and will not tighten up, with a screwdriver. Also, it is only 800 watts, less than most competitors.
Nice appliance
Nice popcorn maker, makes a lot of popcorn at once, is easy to use, ok to clean. Makes delicious popcorn with very little effort.