Smoothie Blender, Blender for Shakes and Smoothies, 1200W Professional HOUSNAT Countertop Blender for Kitchen, 8 Smart Presets, 8 Speeds, 60OZ BPA Free Pitcher, Infinite Rotary Control
Smoothie Blender, Blender for Shakes and Smoothies, 1200W Professional HOUSNAT Countertop Blender for Kitchen, 8 Smart Presets, 8 Speeds, 60OZ BPA Free Pitcher, Infinite Rotary Control
Regular price
$199.99 USD
Regular price
Sale price
$199.99 USD
Unit price
per
Sale
Sold out
Share
🍉【Smart Program Settings】Smoothie Blender features 8 Preset Programs (Smoothie, Vegetables & Fruits, Fruit Puree, Nutri, Ice Cream, Ice & Crush & Clean, Pulse) with 8 adjustable speed levels and a built-in timer, which can be adjusted according to needs to achieve multiple textures of the mixture.

🍊【 High-Performance Blender】The Max 1200W Countertop Blender reaches up to 26,000 rpm/min, combined with 6 stainless steel sharp blades, it can break the cell wall in seconds and extract vital nutrition and vitamin. Easily crush ice cubes and hard ingredients, perfect for making smoothies, protein shakes, juice, puree, grind coffee beans and chop meat.

🍓【Easy to Use & Self Cleaning】Just turn the knob to set the desired time, speed or mode, then press the knob to start blending. Use the provided stirring rod to stir the agglomerated mixture to a smooth state. Add detergent and 1/4 of water to the blender, close the lid and operate in cleaning or pulse mode within thirty seconds to clean up.

🥝【Safety Design】Only the jar and the base are properly connected, the motor can be started. The locked lid fully covers and seals the jar to prevent the mixture from overflowing. The motor temperature control system prevents the motor from overheating. The jar is made of BPA Free Tritan, which is durable and leakproof.

🍅【Quiet & Large Capacity】The plastic cushion on the top of the engine base can eliminate noise and keep the jar stable when blending, preparing, and enjoying your meal in a quiet environment. The 60oz pitcher is large enough to serve your whole family, suitable for parties or holiday gatherings.
View full details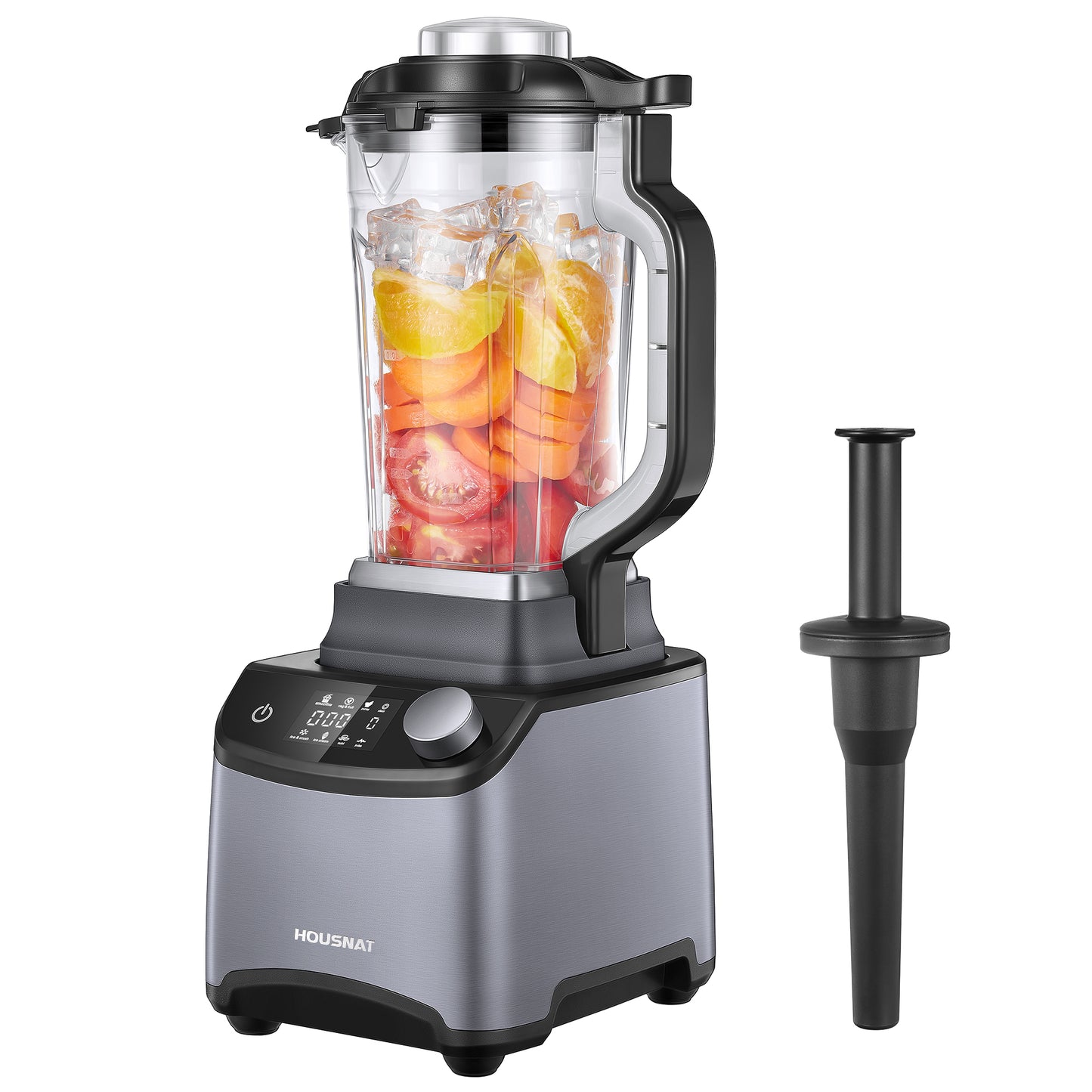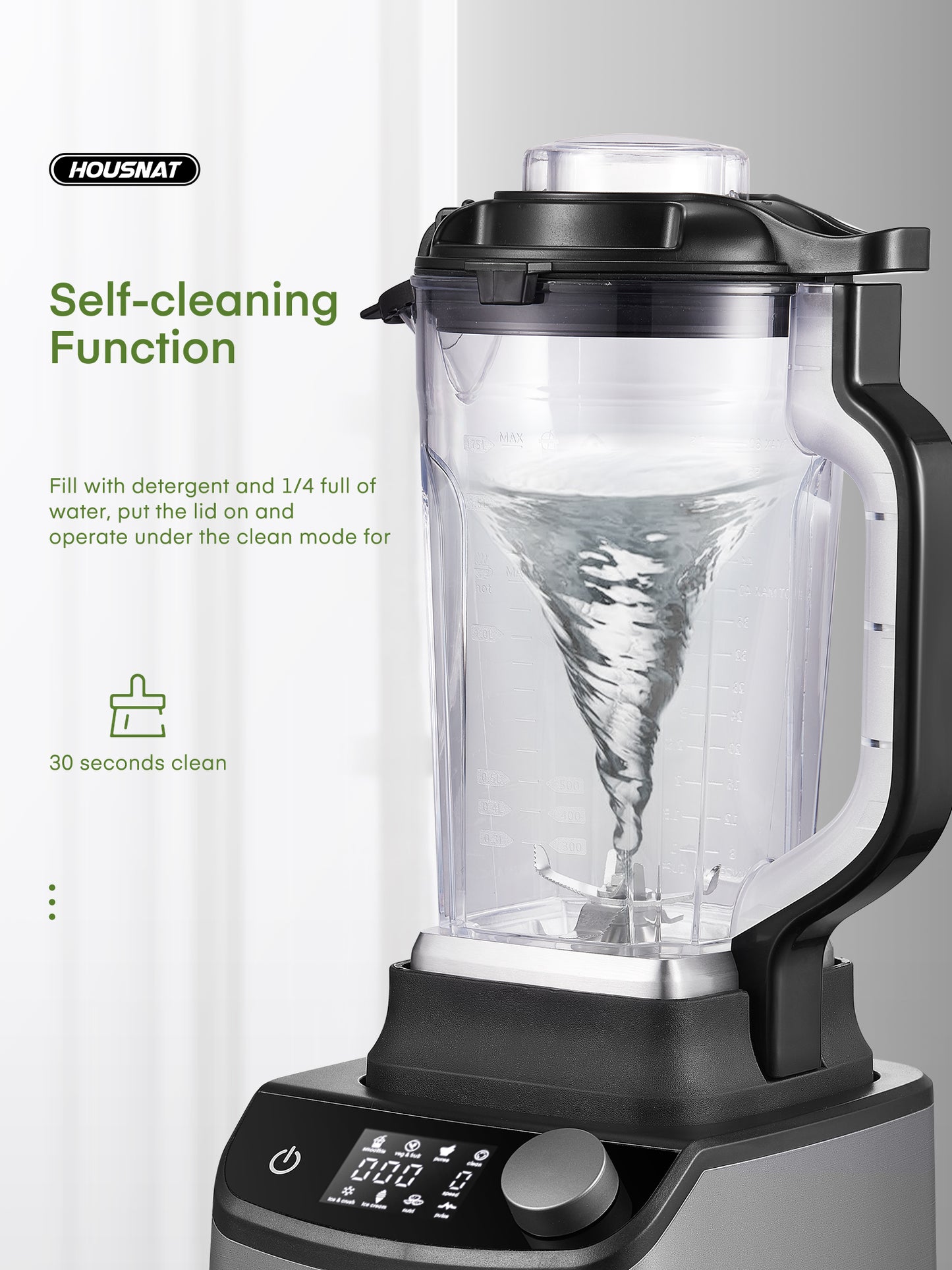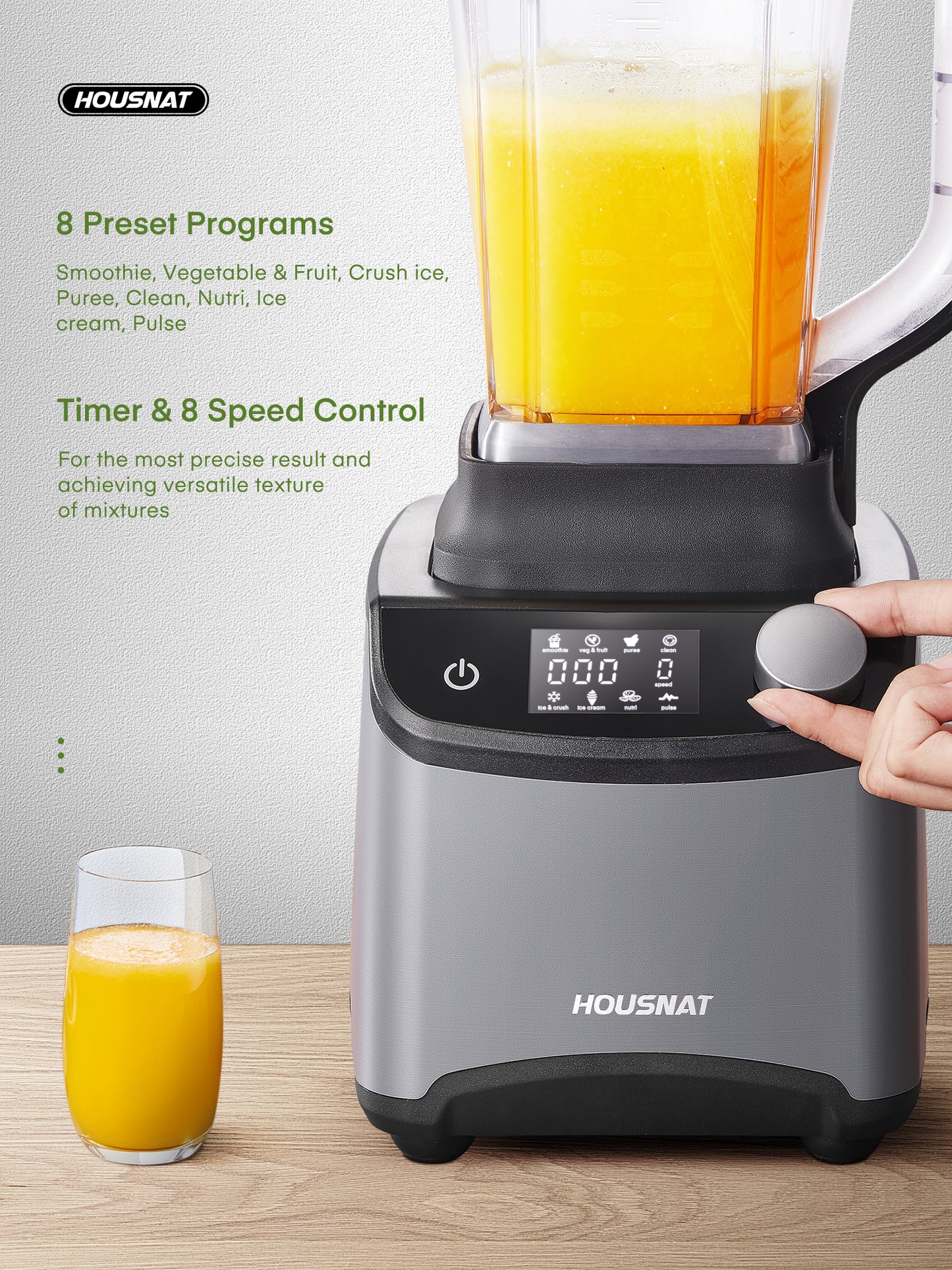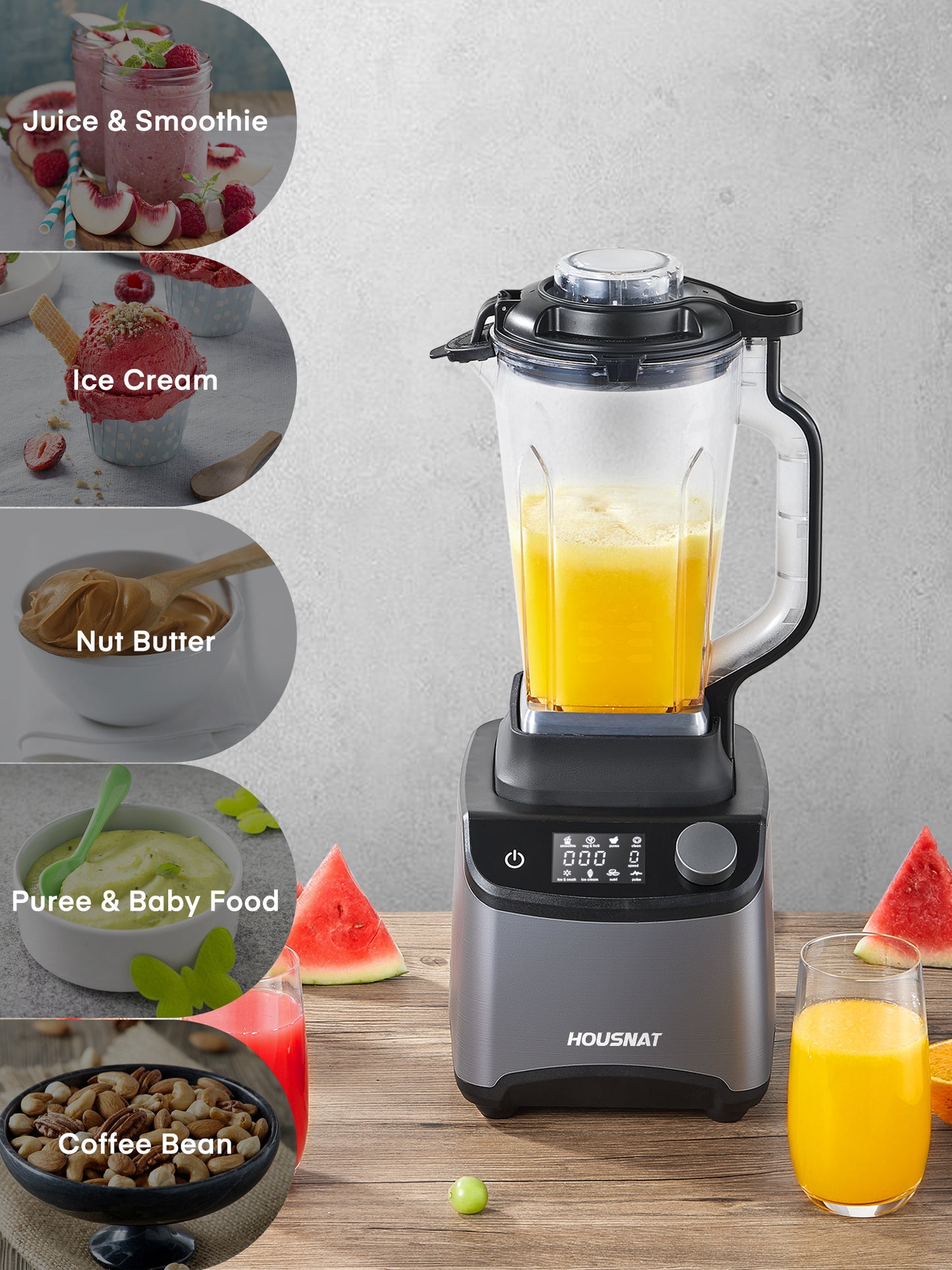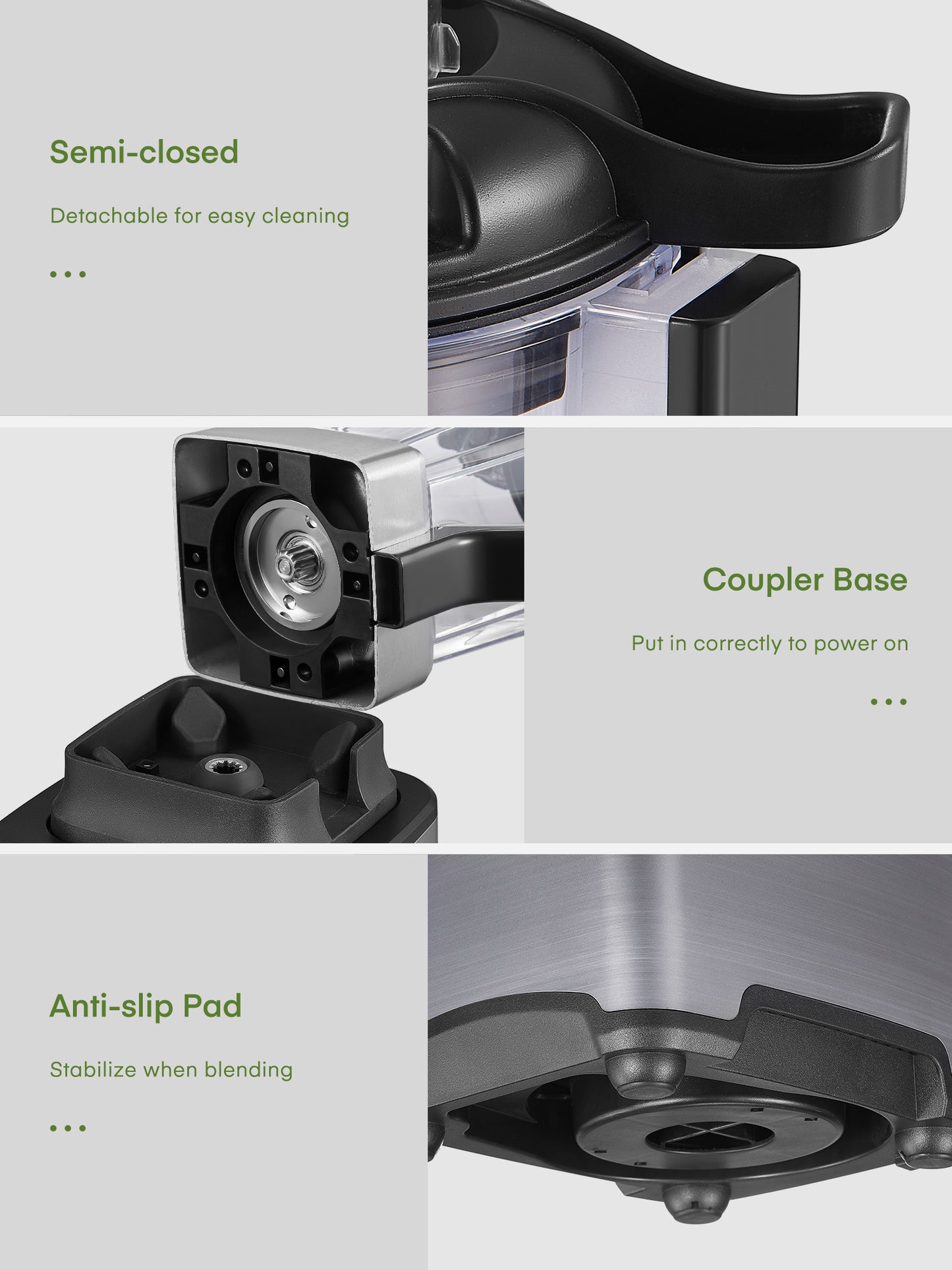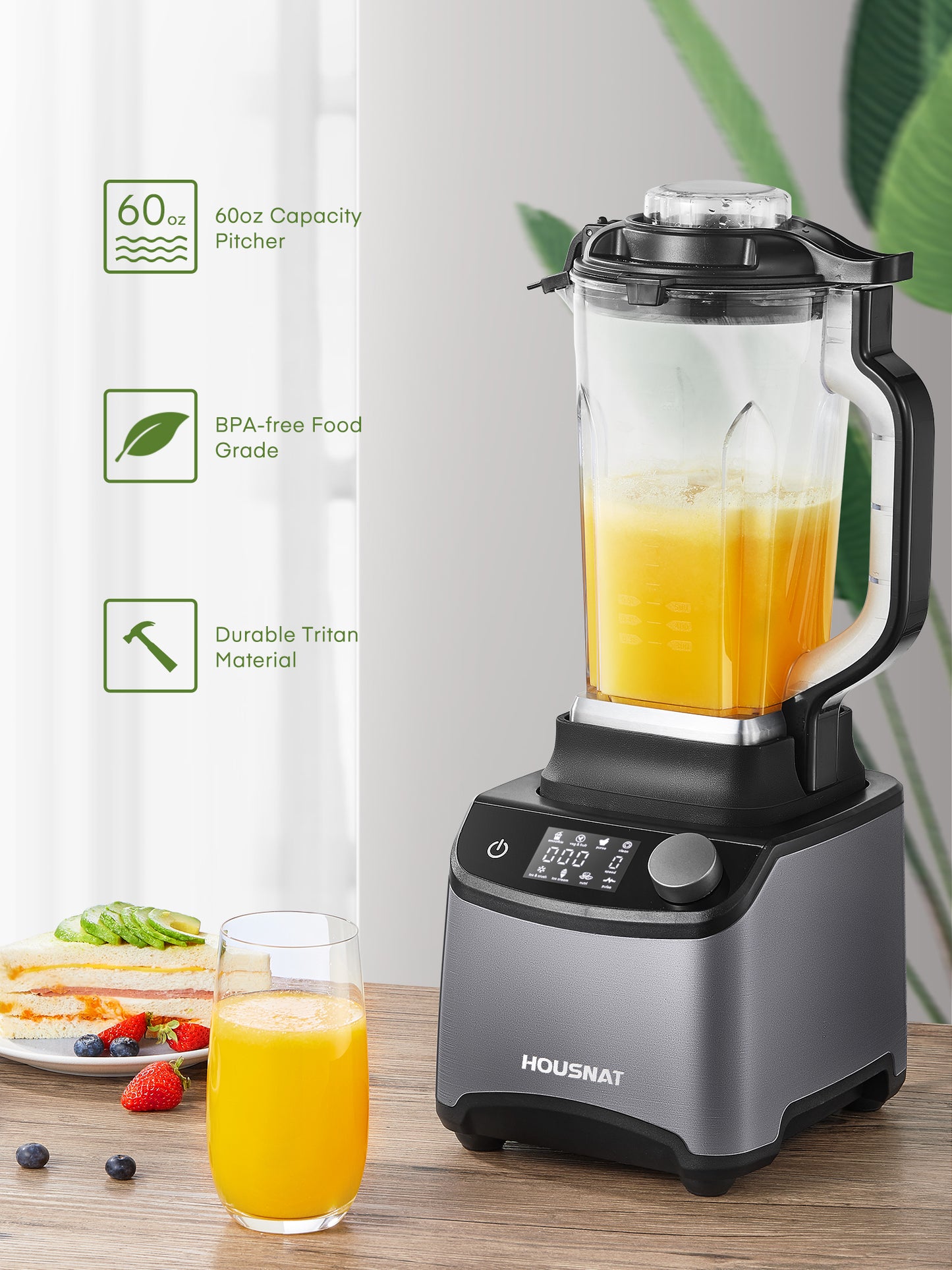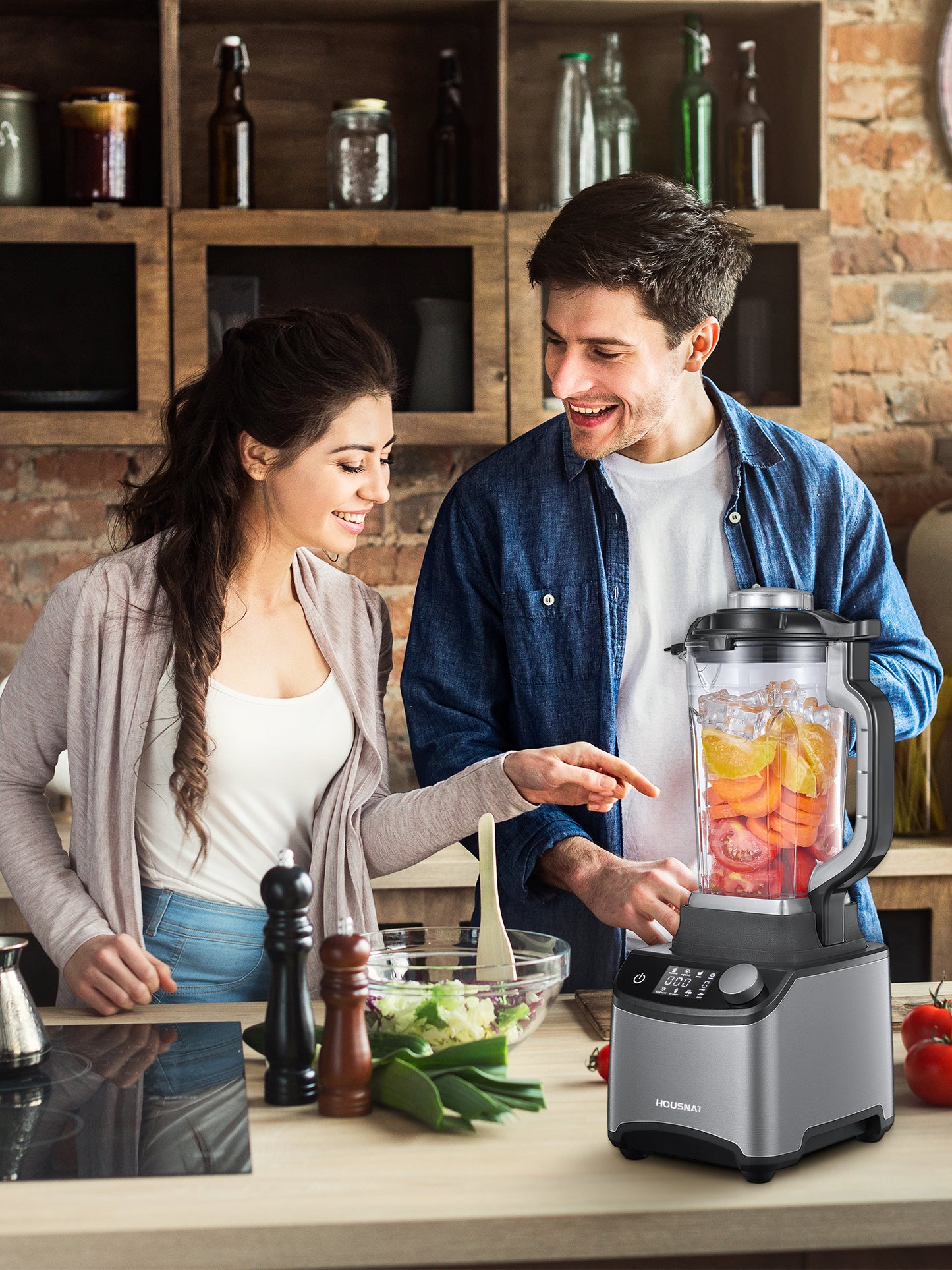 Our favorite blender yet!
I really love this blender. It's so powerful that it quickly chops up and cycles through frozen fruit and spinach to make quick work of smoothies. I didn't expect to like the dial but it does make it super simple to select a program mode and to get it running on the proper cycle. The lid fits snugly without being too difficult to deal with. Be sure to close the front spout cover too otherwise you may end up with a mess on your counter as I did during my first use. It is quite loud and runs in pulses when making smoothies, but does a beautiful job. The cleaning cycle makes it a snap to clean up after use and after using it a few times a week for the first few weeks we have owned it I'm super delighted that we chose this blender.
Powerful and quiet, but odd design makes cleaning harder than necessary
There's a lot to like about this blender/smoothie maker.
It's powerful and quiet, the interface is pretty intuitive, and overall it works well.
However --- there were a few things that I thought should be improved on a smoothie maker at this price point.
Minor points first -
1) The pitcher fits OK on the base, but it's certainly not snug. It's a very loose fit, but works fine.
2) The spout cover just ... kind of covers ... the spout. It doesn't clip in place or anything, just sort of close enough fit.
3) Removing the center clear part of the lid is quite difficult. The rubberized lid grabs the clear top VERY tightly. If your hands are even a little damp, you'll never get it out. There isn't any obvious keying to know if you've turned it far enough (or too far). You just have to muscle it out. If you turn it to the stop, (too far) you have to come back about 2 mm for it to actually release.
The more annoying issues:
1) The clear center of the lid has an outer and an inner ring. If you get food/smoothie/whatever between the two, it's quite difficult to clean. I eventually managed to smoosh a small kitchen sponge in there to get it cleaned out. Much harder than necessary, and quite annoying.
2) And this one is the worst, and completely inexcusable - The handle is hollow. It's not removable (at least not easily) AND you slide the locking mechanism inside the HOLLOW SLOT to hold it in place. If you have some food on the lid (very likely) it will go into the HOLLOW HANDLE and ... that's that. No way possible to get it out. You can run some water in there, and kind of sort of get it out, but you'll be losing your mind trying to keep food from accumulating inside the handle. Completely inexcusable. If you look at the picture you'll see I have water inside the handle from just washing it. You have to wait for it to dry (and this takes a VERY long time since it's a sealed tube with only the hole at the top) before you can put it away.... Or you risk mold because the lid lock effectively seals the water in. Did I say inexcusable design?
At this price point, I'd recommend looking elsewhere.
Perfect Dupe!
This reminds me of the ninja. It is the perfect dupe if you dont want to pay the high prices. It is the perfect product for making juices or smothies, its light weight and super powerful. I highly recommend for the price and quality of the product.
I love this blender!
Not only is this a high tech blender, but it blends so well! I use ice and frozen fruit in my smoothies and did not have any chunks at all!
Fantastic Blender! Lightweight, powerful and strong!
I really love my new Housnat blender! It is so well made, very quiet for a blender and I love the plastic pitcher. Its light yet strong and has measuring steps on its side.
There is a plastic cushion underneath that helps to quiet noise and it also reduces vibration. There is a nice plunger stick to push down fruit and a "swing head design" of the lower blade that centers both cutting blades.
There are eight smart settings that are presets. (I think they are Smoothie, Vegetables, Fruit Puree, Crushed Ice, Clean-up and a Pulse preset. The first time I've seen this- there is a timer for how long you blend so you can start it and walk away!
The blade is stainless steel with six points and this machine easily crunches up ice cubes and hard stuff like nuts. I understand you can even use this blender to grind up coffee beans (but I have not yet tried this).
Like most blender, it will only start when the pitcher and base are properly connected. There is no splash because of the good seal on the locking lid. There is a "temperature control" so that the motor does not overheat.
This is probably the very best value in blenders you will find. I am highly recommending it.